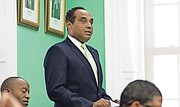 By RASHAD ROLLE
Tribune Staff Reporter
rrolle@tribunemedia.net
PRESS Secretary Anthony Newbold said yesterday that Cabinet Office has "carriage" over determining how some functions were wrongly transferred from Environment Minister Romauld Ferreira to Prime Minister Dr Hubert Minnis in an official document gazetted on August 22.
It was revealed last week that the document dismissed as "fake news" recently by Dr Minnis in a previous interview with reporters was in fact legitimate.
Mr Newbold said last week that the document transferred matters to Dr Minnis that Cabinet did not agree to have moved.
He said the error emanated from Cabinet Office – a position opposition members in the Progressive Liberal Party (PLP) disbelieve.
Under the Constitution, only the prime minister can ascribe functions and responsibilities to ministers.
Mr Newbold was asked yesterday if the Minnis administration has got to the bottom of how the "error" happened.
"It's a function of the Cabinet Office and so they have carriage of it," he said. "There haven't been further discussions, certainly not between the prime minister and myself about it because it's something the Cabinet Office should handle. Whatever needed to be done or was done, Cabinet Office would be responsible for that."
He was asked if this suggests Dr Minnis and members of his administration are not probing the matter to determine how the error occurred.
"There is no suggestion that they don't see that," he said. "I simply say that it's a function of the Cabinet Office and they are handling what needs to be done. Now you may want to speak directly with the Cabinet Office, but no I'm not suggesting that."
In fact, The Tribune contacted the Cabinet Office multiple times last week and visited its Bay Street office seeking information.
However, attempts to reach top officials at the office failed. One official told The Tribune documents on the matter – which should feature signatures showing who signed off on what was ultimately gazetted – are internal documents and not for public consumption.
"You spoke with the Cabinet Office," Mr Newbold said. "They didn't necessarily release any details to you but I'm sure they're working on it."
Some members of the Progressive Liberal Party (PLP), including former State Minister for Legal Affairs Damian Gomez, don't buy the idea that Cabinet Office erroneously transferred functions from Mr Ferreira to Dr Minnis. Instead, they believe the Minnis administration has not been completely honest about what happened.
Mr Gomez insisted last week that nothing about matters transferred from one minister to another minister could be gazetted unless the prime minister puts his signature on documents sanctioning the transfer.