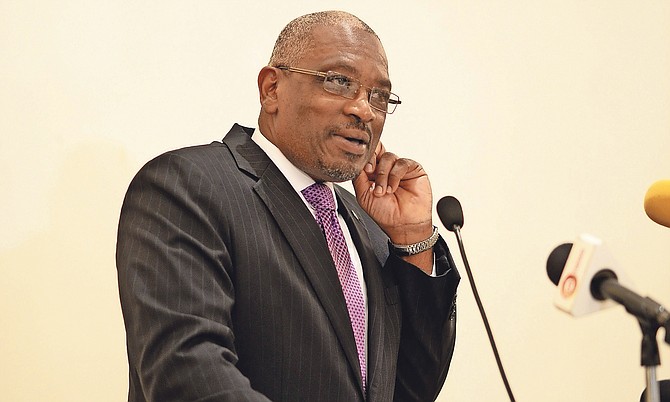 By Khrisna Russell
Deputy Chief Reporter
WHILE admitting he sometimes gets "it wrong" and does not communicate as best he could, Prime Minister Dr Hubert Minnis said there have been many "tough" days since the Free National Movement was elected to govern the country earlier this year.
And two weeks after he lambasted members of the media at the Bahamas Press Club awards banquet for sometimes "blurring" the lines between reporting and commentary, Dr Minnis said constructive criticism is necessary to help those govern "become better leaders".
"God knows, God truly knows I have made some mistakes," Dr Minnis said as he addressed parishioners at a local church yesterday morning. "God knows that sometimes I get it wrong."
The prime minister also seemed to acknowledge he at times becomes defensive in the face of criticism adding, "this is only human nature".
These remarks follow hot on the heels of last week's events in which the prime minister dismissed as "fake news" a document about the transfer of portfolio responsibilities of Environment Minister Romauld Ferreira which was later found to be legitimate and gazetted on August 22.
It also comes after weeks of backlash over the Commercial Enterprises Bill and criticism the prime minister received over announcing Members of Parliament would receive raises in the next budget cycle without explaining how the government planned to make possible the increase.
On Sunday, Dr Minnis appeared humble as he spoke on the occasion of the fifth pastoral anniversary of Bishop-elect James Newry and Elder Queenie at Calvary Deliverance Church on East Street South.
He said: "My brothers and sisters, for just over six months it has been an extraordinary privilege to serve as prime minister of our wonderful and blessed country. I am motivated every day by a commitment to social justice and accountability.
"I am motivated by the needs of the poorest and most vulnerable in our land. Any privilege that does not issue forth in helping the least among us (is) a privilege that is wasted.
"The greatest privilege of serving as head of government is the opportunity to improve the lives of my fellow Bahamians. It is a special privilege to work daily to provide our children and young people with opportunities to dream and realise their dreams. My passion is to give back to our country what this country has given me, and since May I have had a new vantage point that has allowed me to see more in depth the challenges and problems as well as the opportunities and possibilities of our country."
Dr Minnis also said: "There are many tough days. There are sometimes sleepless nights, but the great reward of helping others outshines the sometimes-difficult days and nights.
"God knows, God truly knows, I have made some mistakes. God knows that sometimes I get it wrong. Sometimes I don't explain or say things as well as I could. But let me say this, my season is not finished yet. My vision and mission is one of reform and transformation. I am committed to making ours a fair and more just society, less burdened by violent crime and less burdened by the corruption by public officials.
"My pledge is working hard to improve our economy and boost economic growth and jobs so that more Bahamians can live a better life.
"We are a democracy. Criticism is necessary and helps those who govern to become better leaders. I thank those in our land who offer sincere and constructive criticism. I have learned from many of these criticisms – mind you some of the criticisms is unwarranted or uninformed.
"Sometimes one can become defensive because of criticisms. This is only human nature and it happens to all of us. All of us whether church, business or political leaders have to be able to discern the difference between criticism that is merited and criticism that is not. With God's help and the help of others, I will continue to grow and to learn. My season is not finished yet."
Last week, critics pounced on the Ferreira matter and questioned Dr Minnis' trustworthiness.
However, Press Secretary Anthony Newbold came to Dr Minnis' defence during his press briefing last week and said the gazetted document is real but contains errors. He said it prescribes to Dr Minnis responsibilities Cabinet never transferred to him, a fact officials only recently learned.
The document reports that responsibility for seven matters had been transferred from the portfolio of Mr Ferreira to the Office of the Prime Minister.
Because Mr Ferreira is a persistent target of rumours from the Free National Movement's opponents on social media, the document gave rise to unsubstantiated theories about why he was having his portfolio reduced.
Mr Newbold said Dr Minnis had not seen the document when he dismissed it as "fake news" in a short interview with reporters on November 25, but had merely assumed the document claimed there was "wholesale transfer of responsibilities from Mr Ferreira to him with the intent to demote (Mr Ferreira)."
Mr Newbold said the only function transferred to Dr Minnis is responsibility for the Bahamas Environmental Science and Technology (BEST) Commission. The other matters - the Plant Protection Act, wild animal and bird protection, natural history specimens, relations with national and international organisations on matters relating to the environment, international convention, treaties, protocols and agreements relating to the environment and reef and blue holes - were not meant to be transferred to the prime minister as the gazetted document says, according to Mr Newbold.