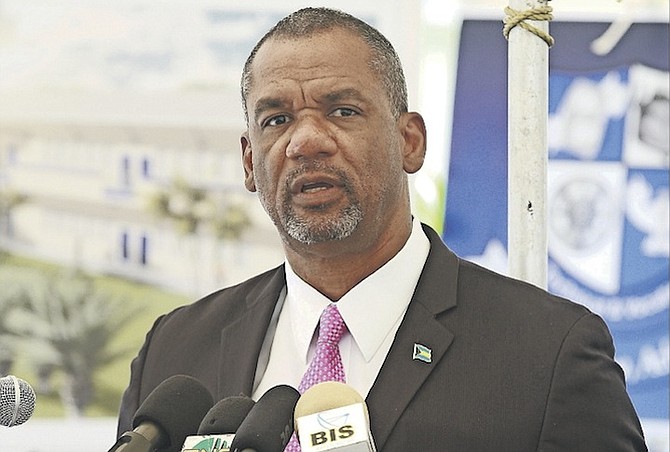 By AVA TURNQUEST
Tribune Chief Reporter
aturnquest@tribunemedia.net
HOUSE of Assembly Committee on Privilege Chairman Arnold Forbes confirmed yesterday that the probe into Justice Indra Charles' ruling on the limits of parliamentary privilege will move ahead despite the recent appeal filed by Marathon MP Jerome Fitzgerald in the matter.
Mr Forbes said while the committee will seek legal counsel "at some point", the public hearings are set to begin next Thursday.
He said no persons have been tapped to come before the committee as yet.
"The committee will move ahead," he said.
"I will have to probably meet with fellow committee members, but as far as I know we are proceeding.
"We will at some point seek legal counsel and that will probably play a role in the decision, but as far as I know we are moving ahead as planned for Thursday of next week."
Mr Forbes added: "We have not endeavoured to call anyone as yet but we will meet in our first hearing on Thursday."
A notice from the House clerk will be issued with information on the confirmed venue, according to Mr Forbes, who said there was a tentative booking for the Paul Farquharson Centre.
The committee probe has evoked mixed reaction from the legal community, with some calling the move an affront of the separation of powers while others contend that the exercise reinforces the division of the three arms of government.
In May, Justice Charles granted a permanent injunction barring parliamentarians from accessing or making public the personal information of the non-profit organisation, Save The Bays.
Justice Charles ruled that Mr Fitzgerald infringed on constitutional rights when he tabled the private e-mails of Save The Bays in Parliament, and therefore could not be protected by parliamentary privilege. Justice Charles also ordered Mr Fitzgerald to pay $150,000 in damages for the breach
In Parliament, Mr Fitzgerald moved a resolution for the House Committee on Privilege to determine whether Justice Charles, STB Director Fred Smith, QC, and lawyer Ferron Bethell should be held in contempt of the House of Assembly.
The resolution was seconded by Deputy Prime Minister Philip Davis, and provides for funding to obtain independent legal advice if needed.
However, Mr Fitzgerald filed an appeal to have Justice Charles' ruling overturned last week; raising speculation of whether there would be a conflict now that the matter was now under judicial consideration.
A Queen's Counsel, who spoke on the condition of anonymity, called the parliamentary probe an "affront to the separation of powers".
In an interview with The Tribune earlier this week, the QC said the move was "ill-advised" given that it was a long-standing parliamentary rule that nothing said or done in parliament should refer to a pending legal matter.
Yesterday, another QC insisted that the parliamentary committee was well within its rights to continue with proceedings.
"If what they're saying is we're going to take a judgment look at all of the documents filed in the ruling, and related persons, in theory that could include a judge. A matter being sub judice can't prevent parliament from acting," said attorney Wayne Munroe.
"The fact that you rush out to court doesn't stop Parliament.
"Separation of powers means that Parliament has the power to deal with something that comes before it.
"I don't understand the difficulty with Parliament doing what it is supposed to be doing, regulating its own procedures while the court deals with an issue before it.
Mr Munroe said: "What would amount to courtesy is what Parliament would do if there is a determination that that court acted in contempt, would consequences be visited on the judge or the lawyers who moved the court to act in that manner?"
"The judge delivered a judgment that she thinks is right.
"The MP believes he did what he thinks is right. It could be decided that either or both of them were wrong. The committee on privilege can discipline a member of Parliament also."