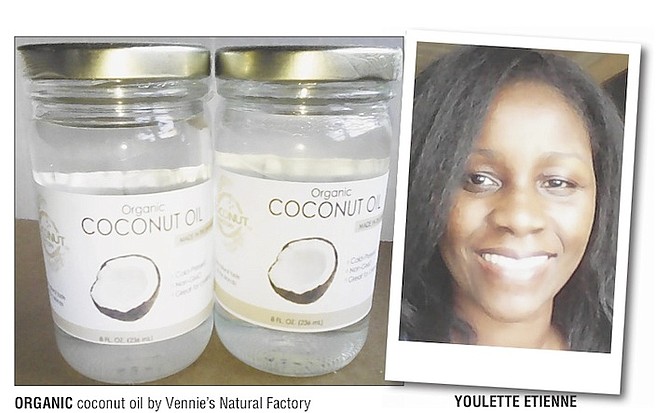 By JEFFARAH GIBSON
Tribune Features Writer
jgibson@tribunemedia.net
ORGANICALLY grown coconuts and all the products to be gained from them has allowed Youlette Etienne to stand on her own as a successful businesswoman.
Although her business has existed for a few years now, Youlette said seed money she recently received from a special grant has gone a long way in improving the quality and production at Vennie's Natural Factory.
It was almost a year ago that Youlette applied for a grant from Island Luck's Own Your Bahamas programme. The initiative offers entrepreneurial opportunities for people lacking the capital or funding to start a business independently.
Along with the $25,000 to start her business, Youlette was afforded an all expenses paid trip to visit the Canton Trade Fair in Guangzho, China, last year.
The opportunity has allowed Youlette to expand production at her organic food processing company which produces 100 per cent organic coconut oil, milk, butter, flour and flakes right in the Bahamas.
"The idea to process coconuts came to me in July 2011 while listening to Immediate Response with Chrissy Love. She was speaking about having to import coconut oil from the Philippines for her raw food restaurant when we have so many coconuts rotting on the ground in South Andros. It was then that I asked myself, 'How do you make coconut oil?'," she said.

Over the following weeks, months and years, Youlette learned about the many food and non-food products that can be made from the coconut.


"My company is mainly about processing the entire coconut, which fortunately just happens to be organic here in the Bahamas. Our core products consist of both food and non-food products, including coconut oil, flour, butter, chips, shredded coconut, coir mulch, and coconut shell charcoal. We will also be reintroducing our hair and body care line soon, which will include soaps, lotions, body butters, shampoos and conditioners, using our coconut oil as a key ingredient," she said.
Youlette said her business is very time-consuming and labour intensive, but she enjoys the many creative ideas that continue to flow from one project to the next.
"The most significant way the grant will help is with the purchasing of the five coconut processing machines, which will significantly increase production," she told Tribune Woman.
With the current manual process, Vennie's can only process a maximum of 250-300 coconuts in 10 to 12 days.

"This yields only 30 x 8oz jars of coconut oil. We cannot keep up with the current demand for our products. With our processing machines, we will be able to de-husk, de-shell, and de-skin 300 coconuts in one hour. Our goal is to process a minimum of 2,000 coconuts on a weekly basis," she said.
Before receiving the grant from the Island Luck Care Foundation, Youlette applied for start-up money from several other programmes, to no avail.
"It was actually my father who told me to apply for the Island Luck Care Foundation Own Your Bahamas programme. After not having my approved jump-start grant funded after three years, being rejected by the Bahamas Entrepreneurial Venture Fund three times, and not remotely being entertained by banks, I was not particularly interested in getting another 'no'. However, I knew I had a great idea, something that is a first for the Bahamas, so I took my father's advice and applied. I completely forgot about it until I got the interview call 10 days later, and a confirmation afterwards," she said.
Youlette added: "I think more people should aspire to be entrepreneurs, especially now when so many are unemployed. Rather than focusing on finding a job, focus on creating your own. I started with absolutely no money, nothing at all. For the past five years I have put every spare penny and a lot of time into my business. I still cannot yet pay myself, but I have always known that at some point I will be able to do so. It has not been easy and I work every single day, but I do not have to go looking for a job; I created my own."
For more information, contact 225-1233 or visit The Coconut Factory's Facebook page.