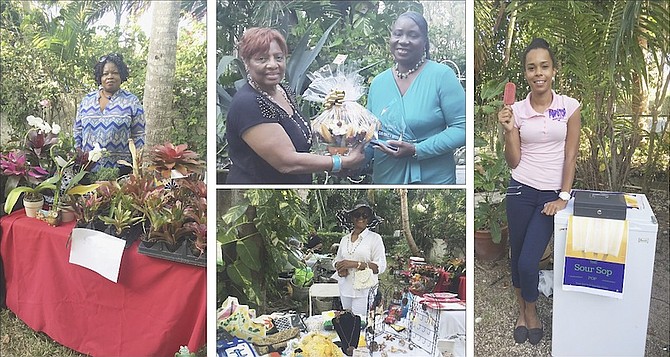 By ALESHA CADET
Tribune Features Reporter
acadet@tribunemedia.net
WOMEN entrepreneurs have always played an important role in the Bahamian economy, however, for many it is often a challenge to get the necessary exposure for their businesses.
When events like the recent Wise Women Festival come around, these ladies are thankful to have an avenue to promote the companies they are passionate about.
One vendor at last Saturday's festival, Tish Ward, said this event was where Pop Stop, her handcrafted healthy gourmet popsicle company, initially got its start. She said she sees the annual festival as an opportunity to grow and expand as a young Bahamian businesswoman.
"The feedback has been amazing today and it is wonderful being around such successful women who are empowering other women. There is no greater power than to see a woman support another woman. Going out there in the real world may be difficult and sometimes it's great when the real world comes to you, makes it a bit more easier," said Tish.
The festival, held at a private residence, attracted over 120 guests and featured women entrepreneurs who showcased a diverse selection of food, agricultural items, art and handicrafts, healthy lifestyle options and who gave comedic presentations.
From Audrey Marie Deveaux's handbag selection, to The Brom Lady's bromeliad plants and Kenyatta Johnson's fascinators, the afternoon proved to be a successful outing for all participants.
"We have heard from a myriad of wise women speaking on spirituality, culture, exercise, economic well-being and more. I think they have all done an exemplary job," said Ms Deveaux.
On display at her station was a variety of hand-painted handbags, Bible holders, as well as crocheted and shell works.
"I love gardening, but I didn't know I could paint. I transferred my love for gardening onto the canvas and then converted that into little girls' tote bags. It doesn't matter what you design, there is inspiration all around. Sometimes in the evening we look at the birds flying, and you can transfer that. It is so beautiful and that is what I like, and I have found a way to fill my retirement," she said.
Meanwhile Kenyatta Johnson prides herself on the fact that everything her company produces is handmade. She offers coloured feathers, dye fabrics, hats and fascinators. She said having a creative nature made it easy for her to enter the entrepreneurial field.
"I saw this as a means of satisfaction and gratification. I like to make things look pretty, so this is a way where I can help others look good. It was back in 2012 when I started and from then until now I have been balancing this and my full-time job, but eventually this is going to be what I am going to transition into full-time," Mrs Johnson said.
Cheryl Albury, Wise Women Festival founder, said she was amazed by the presentations made by companies like Bahamas Outdoor Fitness, which hosted a session on wellness and gave a demonstration on principle exercises.
"We tried to give persons reasons as to why there are no valid excuses for not taking care of their bodies. We also had a nurse from the Nurses Association trying to get persons to get to know their winning numbers for good health. Attendees as usual, they always praise the quality of the products that are on display. They praise the calibre of the speakers and the presentations we have," said Mrs Albury.
She said the festival was specifically created to celebrate, empower and inspire women of all ages in body, mind, and spirit.
"In our thinking, wise women are ladies who nurture the body, mind and spirit. I believe the theme was well displayed here today," she said.
Mrs Albury also applauded entertainer Enith "Jessie Pearl" Darling, who performed a comedic selection.
"She has quite an interesting story. Because I am a retired Supreme Court Justice and I remembered when the court reporters first came in, Enith Darling was one of the first. We have known each other personally since then and she is very talented. She brought some island humour and a little bit of folklore today. I think the guests really enjoyed her," she said.
A major highlight of the festival is the selection of Wise Women honorees. In 2014, this honour was given to Frances Ledee and in 2015 to Isadora Maynard. This year, that honour was given to Elder Minnalee Hanchell of the Great Commission Ministries. Honorees, chosen by the Wise Women planning committee, are selected for contributions to the Bahamian community.