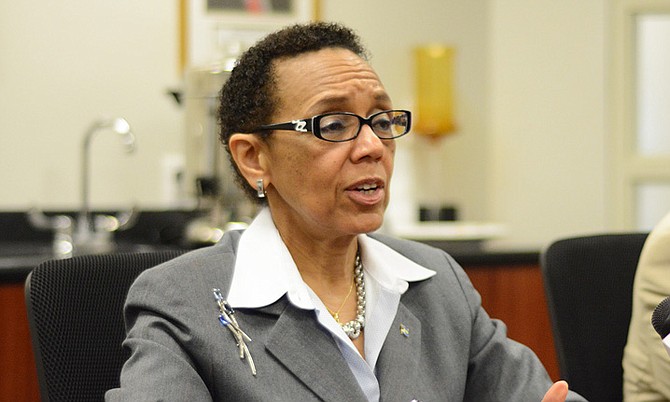 By RASHAD ROLLE
Tribune Staff Reporter
rroll@tribunemedia.net
THE Senate unanimously approved the four Constitutional (Amendment) Bills on gender equality last night, bringing the country a step closer to having a long awaited referendum on the issue.
Earlier in the day, Attorney General Allyson Maynard-Gibson and State Minister for National Security Keith Bell coloured their presentations on the bills with anecdotes of how ordinary Bahamians will be affected if the changes take effect.
Their communications came as debate began during a Senate session on the bills. The referendum on gender equality is expected to happen by the end of July after years of delays, however a firm date has not been set.
Mrs Maynard-Gibson referred to ambitious women at home and abroad as she praised the first amendment, which would allow a Bahamian woman married to a non-Bahamian man the ability to automatically pass Bahamian citizenship to a child born abroad.
"Consider the injustices the first bill will address," she said. "Should a Bahamian woman for example, one working in one of our embassies abroad, representing our nation; or a Bahamian woman studying or working in another country; or a Bahamian female athlete, training in another country; or a Bahamian woman managing medical complications abroad – and these are all situations drawn from real life – should any of these women be unable to pass Bahamian citizenship to their newborn babies, when those babies are born abroad?"
For his part, Mr Bell called on his colleagues to consider "those who look like us" as he pushed for the third bill, which would amend the Constitution to allow a Bahamian father of a person born out wedlock to be able to pass his citizenship to that person subject to legal proof that he is the father.
"Under the provisions of the Child Protection Act, a father is financially responsible for his children, irrespective if they were born in marriage or outside," he said. "Unfortunately, our existing constitutional provisions do not recognise this and consequently although the single father is financially responsible for his children, he has no right under Bahamian law to confer citizenship to his children. This is simply not satisfactory and has real life consequences for many 'Bahamian' children. To give a real life example of this, one need only look at the hundreds of children born to Bahamian men to foreign women in the Bahamas who must wait for their 18th birthdays to become eligible to apply for citizenship.
"Rolles, Knowles, Johnsons, Smiths, they look like us, talk like us, were born here, educated here and their fathers are Bahamian men…yet in law they are foreigners. "We recognise their fathers for the purposes of support; he is required to pay maintenance, feed, shelter, clothes and raise his child – yet in this critical area, they are foreigners in their father's homeland. This is not acceptable in a free, democratic and progressive society."
As for the controversial second and fourth bills, both Mrs Maynard-Gibson and Mr Bell spent considerable time defending the credibility of bills against accusations that they could either cause an uptick in marriages of convenience or pave the way to same sex marriage.
"You don't marry the person today and take your oath of citizenship tomorrow," Mr Bell said referring to bill two, which would give a Bahamian woman married to a foreign man the same right for her spouse to apply for citizenship that a Bahamian man enjoys in relation to his foreign wife.
Likewise, Mrs Maynard-Gibson said the government sought advice from prominent constitutional lawyer Michael Beloff, QC, who summarily dismissed concerns about the fourth bill's ability to pave the way for same sex marriage, concluding that no precedent in Westminster style constitutions would allow this to happen.
The fourth bill seeks to eliminate discrimination in the Constitution based on sex, meaning being male or female.