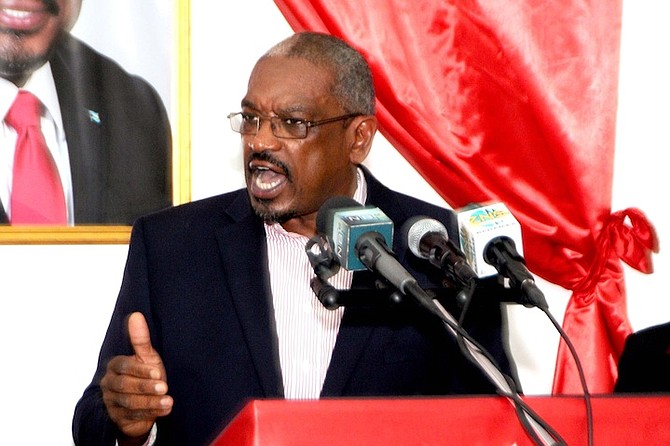 By RASHAD ROLLE
Tribune Staff Reporter
rrolle@tribunemedia.net
IN an apparent swipe at Free National Movement Leader Dr Hubert Minnis, former Deputy Prime Minister Frank Watson yesterday said that only an "insecure" leader would hold a non-voting convention.
He was reacting to comments FNM Chairman Michael Pintard made to The Tribune last week, when he said he expects the party will hold a convention ahead of the next general election, but revealed that there is a possibility it could be a non-voting event in which none of the organisation's executive posts would be open for a challenge.
Yesterday, Mr Watson said anyone who "doesn't want to go to a convention has a real problem".
"They are insecure. They don't believe they can win. It doesn't make sense."
"I've never been in a non-voting convention in my life and I've been in politics since 1976," Mr Watson added.
"If a leader or whoever believes that they have the support of the family, they would go to a convention to test it. That settles this whole issue of disunity and everyone comes together."
In his surprisingly candid remarks, Mr Watson said the one-day convention the FNM held in 2014 was a "joke" that should not stop the party from holding another one ahead of the 2017 general election.
"You ever see a convention like that before?" he asked The Tribune.
"That was a caucus. Conventions are usually two to three day affairs where one person displays potential candidates. It's supposed to be very substance-oriented and not just about voting. It's an opportunity for people to put their philosophy on display to change this country from where we are today to a better tomorrow."
The possibility of a non-voting convention also drew the ire of other members of the FNM, with some questioning the motive behind such a suggestion.
"Today I happened to have read the daily newspapers and was shocked to find that the Free National Movement leader and chairman are considering the thought of having a non–voting convention," former FNM Deputy Chairman Michael Turnquest wrote on his Facebook page last week. "I am totally lost for words on this one."
He added: "While this is unacceptable, it truly showcases the lack of maturity, transparency, fairness and thought leadership required to run a country put by a party! I hope that the important stakeholders within the party ensure that their constitutional rights are not taken advantage of because of the ego and fear of the party's leadership. How can you promise the country fair leadership if your party cannot experience fair leadership?"
The criticism is a reminder that Dr Minnis has failed to consolidate support in the party despite his resounding victory over Mrs Butler-Turner at the 2014 convention.
However, a high-ranking FNM member who believes Dr Minnis has not been treated fairly and deserves to be leader without internal party griping said: "How can we present Minnis to the country and ask the Bahamian people to make him their leader when they in the party don't even want Minnis to lead them?"
While Mrs Butler-Turner has not declared any intent to challenge Dr Minnis at a new convention, a supporter who worked on her 2012 campaign for Long Island recently told The Tribune to "stay tuned" about her aspirations.
"Y'all better take pictures with her now because in a few months you won't be able to touch her," the supporter said confidently as Mrs Butler-Turner took pictures with some of the FNM's most prominent members at her 55th birthday party and charity fundraiser earlier this month.
Mr Watson, who was also at the party, told this newspaper that Mrs Butler-Turner's leadership in helping Long Island residents after Hurricane Joaquin is the kind of leadership this country needs more of.
When Mrs Butler-Turner ran for her party's leadership in 2014, many delegates told The Tribune they were upset with her perceived criticism of the party's leader, suggesting that the airing of "dirty laundry" weighed heavily on their minds in deciding how to vote.
Since then, the party's internal strife has frequently played out in the media.
Mr Watson said the FNM's infighting "must be resolved," adding that an "imminent" meeting will be called soon to address these concerns.