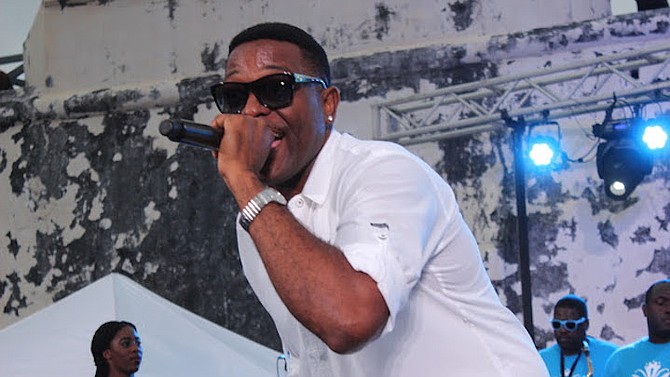 THE sound of music will rock Exuma this Christmas season when 'D MAC' and 28 of his musical friends converge on Regatta Park, Georgetown, for a three-day festival.
The event kicks off with a free gospel concert on December 22 followed by two all-star concerts featuring top entertainers on December 23 and 24. The musical extravaganza unites a cross section of DJs, entertainers, bands and singers from a multiple of genres including gospel, Rake 'n' Scrape, Reggae, Soca and Calypso, with Bahamian food and an authentic Bahamian cultural show showcasing limbo and fire dancers adding to the attraction.
'D MAC & Friends' Christmas in Exuma' was first hosted in 2013 and re-booted in 2015 with such success that, this year, the event was expanded to three nights, including one of gospel music honouring Exuma's iconic singer/songwriter Al Gibson.
Performances by popular gospel artists, choirs and praise teams from Nassau and Exuma are scheduled, notably Denczil Rolle and Friends, Daneisha Curry, Karrington McKenzie, The McKenzie Sisters, The Taylor Children, Farmer's Hill Praise Team and Church of God Of Prophecy District Youth Choir. The gospel concert will be hosted by Pastor Vaughn Miller with music by DJ Godson and DJ Counsellor.
The two-part all star concert and the Kalik BeerFest features an impressive lineup, including D MAC, Elon Moxey, Veronica Bishop, Blaudy, Bodine, Sammi Star, MDeez and Benje, all accompanied by Exuma's Tropical Breeze Band. Also performing are The Synergy Band, The Calypso Band and The Sweet Love Band. The concert will be hosted by The Mighty Pencil and Dwight Hart, with music by DJ Rev, DJ Scooby, DJ Spliff and Code Red. The concert both nights will honour Exuma legends George Whylly, Kenneth Nixon and Godfrey Bowe.