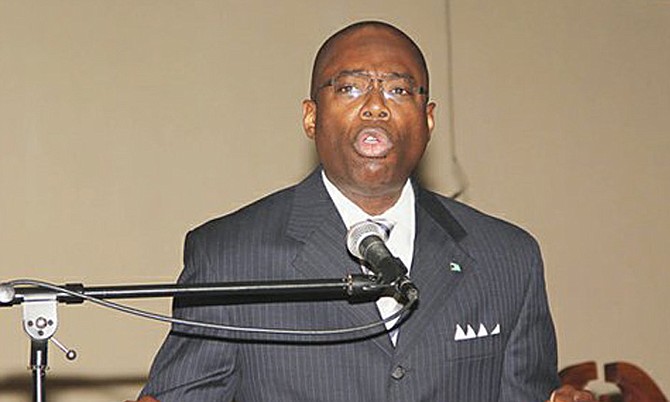 By SANCHESKA BROWN
Tribune Staff Reporter
sbrown@tribunemedia.net
HOUSE Speaker Dr Kendall Major admitted yesterday that he should not have allowed Education Minister Jerome Fitzgerald to read and table the private emails of environmental action group Save The Bays in Parliament.
Appearing as a guest on the 96.9 FM talk show "Morning Blend," Dr Major said in hindsight he should have stopped Mr Fitzgerald and said in the future no emails will be read in the House of Assembly unless they are vetted.
However, Dr Major reiterated that he does not believe the judiciary should interfere with matters in Parliament and said "respectfully" the court ought to mind its own business.
Earlier this month, in a landmark ruling, Supreme Court Justice Indra Charles declared that Mr Fitzgerald was not legally justified when he tabled the private emails of Save The Bays in the House of Assembly, and therefore could not be protected by parliamentary privilege.
Justice Charles ruled that the Marathon MP's actions were an infringement of the constitutional rights of the applicants and ordered Mr Fitzgerald to pay $150,000 in damages for the breach.
Mr Fitzgerald was also permanently banned from disclosure and publication of any further material belonging to Save The Bays and was ordered to delete all electronic and hard copy material within 14 days.
The Office of the Attorney General has said that it would appeal the ruling and was granted a stay pending the appeal.
"Looking back at it, I should not have allowed that to happen," Dr Major said.
"It isn't right for someone to just pick up an email, whether or not it is private or confidential, whether they got it illegally or not and just read it in the House of Assembly for the world to hear unless it is vetted and we can determine its veracity. If that can be determined and the source is determined and no laws are being violated, then that member would have the right to divulge it."
Despite his second thoughts, Dr Major repeated that he thought the court's ruling "violated the principle that underpinned the country's democracy."
"They (parliamentarians) must be in a position to speak freely and openly without fear of reprisal," he said.
"If they don't have that, then any judge or any court that tells a parliamentarian what they cannot say, in essence the next step will be to tell parliamentarians what they should say if it becomes a line of demarcation of comity between the Parliament and the courts, where the courts ought to mind its own business and I say that respectfully."
In March, Mr Fitzgerald accused Save The Bays of being a political organisation seeking to "overthrow" the Progressive Liberal Party government under the guise of being an environmental group. In the House of Assembly, Mr Fitzgerald read private emails from Save The Bays members and others, which he said bolstered his claims.
Speaking outside Parliament, Mr Fitzgerald later warned members of the environmental group to "batten down" because a "category five" hurricane was on its way, as he threatened to table "every single" email and bank statement in his possession if needed to protect his integrity and parliamentary privilege.
After he was ordered to pay $150,000 in damages, Mr Fitzgerald said only Dr Major could stop him from speaking in Parliament.