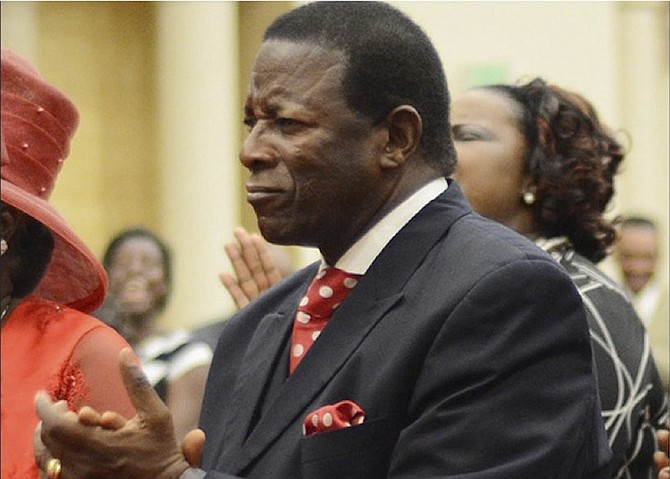 By SANCHESKA BROWN
Tribune Staff Reporter
sbrown@tribunemedia.net
BISHOP Walter Hanchell said yesterday he believes the upcoming referendum is not about gender equality but rather about "making provisions in our Constitution to accommodate same-sex marriages in order to bring The Bahamas in line with other nations".
In a press statement, Bishop Hanchell, chairman of Citizens For Justice (CFJ), said his group is "strongly opposed" to same-sex marriages or unions and will oppose all efforts to have "this abomination" legalised in The Bahamas.
He said God has never approved two males or two females marrying or raising a family and the practice is "evil in its highest form".
"We are of the opinion that if the wording on the bills are not put into a form that will make it clear that marriage be only between a male at birth and a female at birth and also assure the Bahamian people that same-sex marriages and same-sex unions will be prohibited and remain illegal as was done in Jamaica, then these bills will be soundly rejected in the upcoming referendum," the statement said.
"Whenever people stand up against the gay agenda, they are labelled as being homophobic and are disenfranchised. In spite of what is happening in America and the European Union, God has never approved for two males or two females to marry or raise a family. This is evil in its highest form.
"CFJ will never support or condone gay marriages and cry shame on pastors, politicians and special interest groups that are shaking their fists in the face of God with this abomination.
"Both major political parties along with some misguided religious leaders are complicit in promoting these bills to be enshrined into our Constitution. While CFJ respects their views, we do not agree with their interpretation and believe that bill four is the real reason for the referendum and is a plot to satisfy special interest groups, the United Nations and the LGBT community in The Bahamas."
Bishop Hanchell also said it is CFJ's observation that women in The Bahamas can do and have everything that is available to men and they have heard no outcry from women concerning inequality or discrimination before the political agenda of this referendum.
He also said he has written Prime Minister Perry Christie requesting money to fund the organisation's vote no campaign.
"It is not known whether the government will do the right thing even though prominent persons such as Sean McWeeney, chairman of the Constitutional Commission and Senator Carl Bethel have recommended that funding also be granted to groups opposed to the bills. We believe that the government of The Bahamas has a responsibility to explain any negative consequences the bills may have on The Bahamas, however they have refused to do so because they do not want people to hear the truth.
"Subsequently, we will be voting 'no' on all of the bills and will be advising Bahamians everywhere to do likewise and reject these flawed bills."
The referendum is set for June 7.