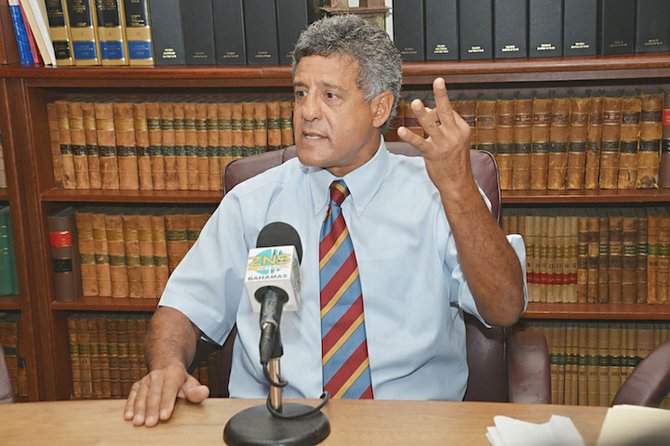 By AVA TURNQUEST
Tribune Chief Reporter
aturnquest@tribunemedia.net
LAWYER Fred Smith, QC, yesterday claimed that the constitutional backing for same-sex marriage has been available for decades as he criticised opponents of the upcoming gender equality referendum.
Mr Smith, president of the Grand Bahama Human Rights Association (GBHRA), said the view that the referendum would pave the way for same-sex marriage was a damaging myth that displayed a fundamental misunderstanding of the law.
He explained that Article 15 of the Constitution already protected individuals from discrimination on the basis of sex, and as a result, a legal path to same-sex unions was already present.
"The simple truth, however, is that the bills couldn't possibly have the effect they claim, as the path to such unions has been enshrined in our supreme law since independence," he said in a statement.
"This was decided by the Supreme Court and the Court of Appeal in the Bahamas in 1996 in a case argued by myself and Maurice Glinton, QC, before Dame Joan Sawyer in Harbour Lobster and Fish Co and Jeffrey Butler vs. Attorney General, when the courts held that discrimination on the grounds of "sex" and "gender" were unconstitutional.
"Therefore, any couple denied the right to be married can mount a constitutional challenge on the basis of this protection and have the courts ratify their union."
Mr Smith noted that London's Privy Council, the country's highest court of appeal, has recognised same-sex unions since 2013.
The fourth Constitutional Amendment Bill has been mired in controversy due to belief from some quarters that a yes vote would lead to same-sex marriage. The proposed change seeks to update Article 26 of the Constitution to outlaw discrimination based on sex.
Bill one as written would give Bahamian women who are married to foreign men the right to pass on their Bahamian citizenship to any child of that union no matter where that child is born.
The Constitution currently says that only Bahamian male citizens by birth have that right.
Bill two as written would allow a Bahamian woman married to a foreign man the right to secure for her husband the same access to Bahamian citizenship as a Bahamian male has in relation to his foreign wife.
Bill three would grant any unmarried Bahamian man the right to pass on his Bahamian citizenship to any child he fathers with a foreign woman with proof of paternity.
Mr Smith added: "So this referendum has nothing whatsoever to do with same-sex marriage and everything to do with ending discrimination against Bahamian women, and in some cases men, solely on the basis of their gender.
"There is nothing hidden or even controversial in what the government is trying to do; the intention is simply to amend another section of the Constitution so as to bring it in line with the protections outlined in Article 15."
Mr Smith also commended the government for following through on its promise to hold the gender equality referendum, as he pledged his organisation's full support of the YES Bahamas campaign.
He also cautioned that his comments were not to be interpreted as support of discrimination against gay rights or the LGBT community.
Mr Smith underscored that while gender equality and gay rights were separate issues, both struggles were supported by the GBHRA. He said his organisation believed that the LGBT community should benefit from all rights and privileges, including the right to marry.
"The GBRHA will push for the success of this referendum, even as we continue to fight discrimination in all its forms – whether based on race, gender, ethnicity, nationality, sexual preference, or any other arbitrary, morally indefensible consideration," he said.
The referendum will be held on June 7.