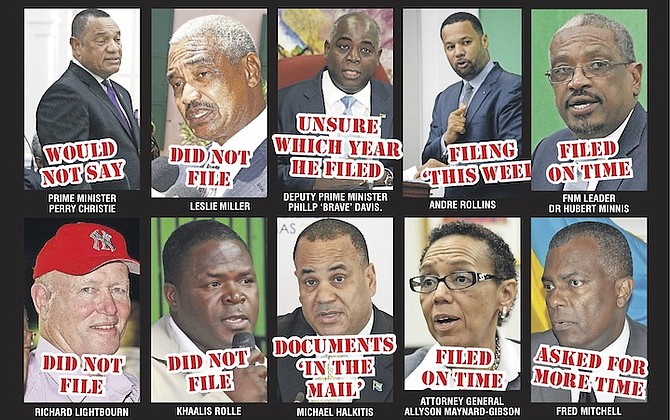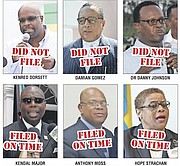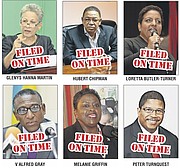 Who has disclosed - and who hasn't?
Perry Christie (PLP) - Would not say
Philip "Brave" Davis (PLP) - Unsure if 2015 has been filed
Fred Mitchell (PLP) - No, asked for an extension
Michael Halkitis (PLP) - No, documents "in the mail".
Damian Gomez (PLP) - No, awaiting documents from bank
Ken Dorsett (PLP) - No, awaiting documents from bank
Leslie Miller (PLP) - No
Khaalis Rolle (PLP) - No
Danny Johnson (PLP) - No
Allyson Maynard-Gibson (PLP senator) - Yes
Melanie Griffin (PLP) - Yes
Glenys Hanna Martin (PLP) - Yes
V Alfred Gray (PLP) - Yes
Kendal Major (PLP) - Yes
Hope Strachan (PLP) - Yes
Anthony Moss (PLP) - Yes
Hubert Minnis (FNM) - Yes
Peter Turnquest (FNM) - Yes
Loretta Butler-Turner (FNM) - Yes
Hubert Chipman (FNM) - Yes
Richard Lightbourn (FNM) - No, but it is "being handled."
Andre Rollins (FNM) - No, promised to be done by this week
The following members of Parliament could not be reached: Bernard Nottage (PLP); Dion Smith (PLP); Cleola Hamilton (PLP); Jerome Fitzgerald (PLP); Shane Gibson (PLP); Ryan Pinder (PLP); Picewell Forbes (PLP); Perry Gomez (PLP); Michael Darville (PLP); Neko Grant (FNM); Renward Wells (FNM); Theo Neilly (FNM); Edison Key (FNM).
By KHRISNA VIRGIL
Tribune Staff Reporter
kvirgil@tribunemedia.net
AT least 10 members of Parliament have failed to file financial declarations by the March 1 deadline as required by the Public Disclosure Act, according to the MPs who were polled by The Tribune.
When asked about the issue last week, Prime Minister Perry Christie did not answer questions on whether he was in breach of the law. Instead, he deflected to another matter.
"Why do you want to talk to me about that?" Mr Christie asked when he was questioned by this newspaper.
"You know I don't give interviews outside of the Cabinet Office any more. But I am working on a few big things so give me a day or two."
Meanwhile, Deputy Prime Minister Philip "Brave" Davis said he was unsure, but added that he would check the status of his disclosures with his accountant.
Mr Davis said: "I know I signed something a couple of weeks ago but I am not sure if it was for this year or last year. I will check with my accountant."
This comes amid increased calls from the public for elected officials and senators to face penalties for failing to file the annual financial declarations. It also follows a recent US State Department report that highlighted the subject of corruption and government transparency.
The 2015 Country Reports on Human Rights Practices in this country further took issue that there was no independent verification of annual public disclosures from senior public officials, and called the annual submission rate "weak" unless it was an election year.
According to the Public Disclosure Act, a summary of the declarations shall be published in a gazette and any person who does not comply with the law is liable to a fine not exceeding $10,000 or imprisonment of not more than two years.
If a parliamentarian deliberately does not disclose property owned in The Bahamas, the land can be seized and forfeited to the government.
Speaking to The Tribune yesterday, Public Disclosure Commission (PDC) Chairman Myles Laroda was adamant that the decision to prosecute someone for breaching the act is left up to the discretion of the Office of the Attorney General.
Explaining that the commission's power is "basically limited to writing," Mr Laroda maintained that the attorney general would have to give the nod on whether a member of Parliament or top ranking civil servant would face charges over failing to adhere to the stipulations in the Public Disclosure Act.
However, he revealed that there were a "few" MPs and senators who have not declared for the year 2014 and there were even more of them that were "outstanding" for the year 2015.
The Tribune contacted Mr Laroda after polling the majority of this country's 38 members of Parliament on whether they were current in filing the financial documents.
Disclosures
Some MPs said they had not filed yet and attempted to explain.
Foreign Affairs and Immigration Minister Fred Mitchell told The Tribune that while he had asked for his deadline for the 2015 disclosure period to be extended to next month, all previous years had been filed.
When questioned last week, State Finance Minister Michael Halkitis told this newspaper that his documents "were in the mail".
Central and South Eleuthera MP Damian Gomez along with Environment Minister Kenred Dorsett said they were both awaiting documents from their respective banks in order to submit the financial declarations.
Tall Pines MP Leslie Miller said he had completed his form a few months ago but had yet to submit the information.
Minister of State for Investments Khaalis Rolle insisted that his information was being finalised and would be filed in the coming week. Youth Sports and Culture Minister Danny Johnson said he was just waiting for a notary to sign off on his documents.
Attorney General Allyson Maynard Gibson said she was filed and up to date. Others who said they were up to date with their declarations include Social Services Minister Melanie Griffin, Transport and Aviation Minister Glenys Hanna Martin, Agriculture Minister V Alfred Gray, House Speaker Dr Kendal Major, Financial Services Minister Hope Strachan and Exuma MP Anthony Moss.
The Tribune attempted to contact several other government MPs numerous times but the calls, emails and text messages went unanswered. They were Minister of National Security Dr Bernard Nottage, Deputy House Speaker Dion Smith, South Beach MP Cleola Hamilton, Education Minister Jerome Fitzgerald, Labour and National Insurance Minister Shane Gibson, Elizabeth MP Ryan Pinder, Central and South Andros MP Picewell Forbes and Health Minister Dr Perry Gomez.
Grand Bahama MP Dr Michael Darville was said to be out of the country when his office was contacted.
On the Official Opposition side, Free National Movement Leader Dr Hubert Minnis, Deputy Leader Peter Turnquest, Long Island MP Loretta Butler-Turner and St Anne's MP Hubert Chipman said they had filed and were in line with the mandates of the Public Disclosure Act.
Montagu MP Richard Lightbourn said his was "being handled".
When contacted about his, Fort Charlotte MP Andre Rollins said he had not filed his disclosures but that it would be handled before the House of Assembly convened today.
The remaining opposition MPs could not be reached, including Central Grand Bahama MP Neko Grant, Bamboo Town MP Renward Wells, North Eleuthera MP Theo Neilly and Central and South Abaco MP Edison Key.
Inconsistent
Responding to questions over why the government had not been consistent with ensuring the disclosures were made public by way of gazette, as outlined in the law, Mr Laroda stressed that this was the job of the Cabinet Office. Financial disclosures were last made public in 2012, an election year.
He said: "With regards to the actual publication, I think that they are up to 2013 that are needing publication now. The Public Disclosure Commission as an entity we don't do the publication because first of all we don't have a budget.
"The actual publication is done by the Cabinet Office. So we would send the files down there (and) all of the statements that will be up to the Cabinet Office."
He added: "Those who have not complied with the Public Disclosure Act, our job is to write to them and to remind them that it is law that they fill out these disclosures. Our powers are limited to basically writing.
"There are others who have made statements that you could lock up this one and lock up that one, (but) in the act it said nothing could be done without the attorney general so you are able to form your own opinion with regard to that.
"(And) before that is even done that information has to be cleared with the attorney general so it isn't as if we go around locking up people because they are in breach of the act."
While he did not go into specifics over the status of each MP, Mr Laroda said it was the norm for MPs to fall behind by at least a year.
"I'll say this, they usually run a year behind. Up to year 2013, those declarations I think they have been sent up to the Cabinet Office to be (published in a) gazette. There are a few who have not declared for the year 2014.
"And there are more that are outstanding for the year 2015. They had up to March 1 of this year to make those declarations. It's more of them who haven't declared in 2015, but very few for 2014, virtually everyone (has filed) for 2014.
"I know some envelopes have come in that we haven't opened up just yet that we haven't gotten around to. So that may drive the number down even more with regards to that."
Mr Laroda added: "I think one of the main problems that I have experienced from last year that is coming from PLPs and FNMs alike, or even civil servants, is getting the banking information. Filling out the form ain't the problem, but they would be required to submit banking information from their bank and that could run anywhere from weeks to months."
In 2014, Mr Christie informed the House of Assembly that the PDC had expressed concern over the widespread failure of officials to comply with legislation mandating the turnover of annual financial declarations.
At the time Mr Christie said the PDC reported that "a number" of present and former parliamentarians and senators, along with senior public officers, had failed to submit declarations as mandated by law.