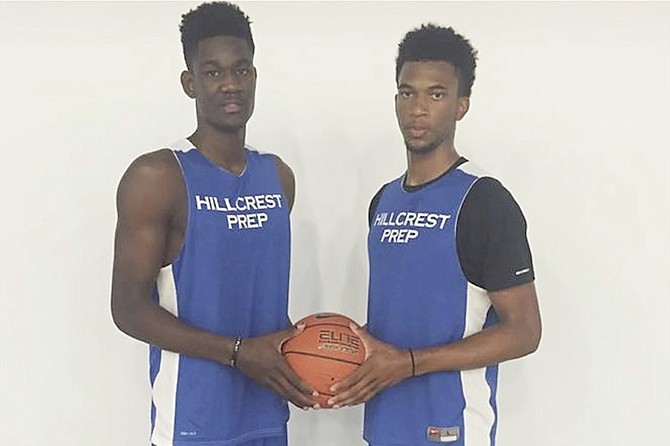 By RENALDO DORSETT
Sports Reporter
rdorsett@tribunemedia.net
Bahamian basketball prospect DeAndre Ayton will continue his much publicised prep career on the West Coast, paired with another highly touted recruit.
Ayton will transfer to Hillcrest Hoops Academy in Phoenix, Arizona, for his upcoming junior season.
Ayton, the top ranked player in the ESPN 60 for the class of 2017, will join Marvin Bagley III - the top ranked player in the class of 2018 - to make Hillcrest Hoops a dominant powerhouse almost immediately.
Ayton previously attended the Balboa City School in San Diego, California, since he left the Bahamas just over three years ago to complete his education and compete against better basketball talent.
At Balboa City, he rose to national prominence and was evaluated as one of the top ranked players in his class by ESPN, Scout, Rivals and several other recruiting services.
In his inaugural season at the varsity level, Ayton averaged 21.1 points, 16 rebounds and 3.8 blocked shots per game. He went on to finish with double doubles in 21 of his 22 regular season games.
Bagley, a 6'11" forward, also left his previous prep school - Tempe Corona Del Sol - to join his father, Marvin Jr, who is now an associate head coach at Hillcrest Hoops.
In his freshman season, he led Corona Del Sol to a fourth consecutive Division I basketball title and averaged 19.6 points, 10.3 rebounds, 2.4 blocks and 2.3 assists.
Marcus Bagley, a 6? 5? eighth grader, will also join his older brother in playing for father in the first national season for the Hillcrest programme.
Backed by Ayton and Bagley III, Hillcrest Hoops will have a national schedule where they will receive maximum exposure tested against perennial powerhouses Huntington Prep and Oak Hill Academy.
Thus far, Ayton has received official offers from the University of Kentucky, the University of Arizona and San Diego State University. He is considered the top high school player in the United States, irrespective of class, despite the fact that he will enter the 11th grade this fall.
This summer, Ayton was one of 24 players named to the roster to compete at the Under Armour Elite 24 All-Star Game in Brooklyn, New York.
The Under-Armour Elite 24 has quickly become one of the premier events during the summer as the bidding war between major shoe companies heats up in an attempt to claim top college prospects and was televised live on ESPN.