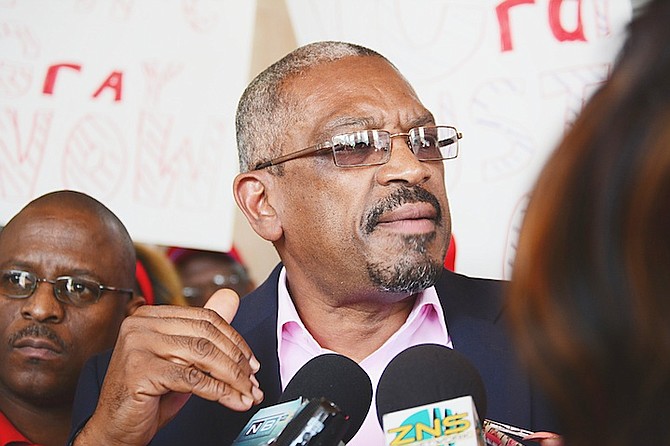 FREE National Movement Leader Dr Hubert Minnis said if he were elected as prime minister he would not assume a ministerial portfolio but instead be the "CEO of Cabinet to ensure that everything gets done."
Dr Minnis also said his party would institute a primary voting system for candidates at the constituency level, similar to the political practice in the United States, and also create a recall system for non-performing members of Parliament.
The Killarney MP said he is advocating for a complete change of government with the involvement of the power of the people.
"I want to ensure that the people are involved. As prime minister I will not accept a ministerial post, I will be the CEO and oversee to make sure that everything gets done," he told The Tribune yesterday. "I would institute a recall system for non-functioning members and constituency primaries to ensure that the people are intimately involved in the selection of representatives and (introduce) campaign finance reform."
Dr Minnis said if elected, he would also appoint a press secretary to regularly address the nation about the government's policies and actions.
Since becoming leader of the opposition party, Dr Minnis has also promised that he would push for legislation to limit a prime minister's time in office to two terms.
"After two terms, it is time for new leadership, new ideas, new direction and new focus," he said in September. "Young people are the future and stepping down allows everyone an opportunity to help guide the country. We cannot have another Pindling who served for 25 or more years. In order for this country to go where it needs to go, the leadership must be changed after two terms and the FNM will push for that."
Former Prime Minister and FNM Leader Hubert Ingraham served from 1992 to 2002. Mr Ingraham was re-elected for a third, non-consecutive term in 2007 and served until the Free National Movement's defeat to the PLP in 2012.
Prime Minister Perry Christie served one term as prime minister from 2002 to 2007. He was re-elected as prime minister in 2012. He has since said he plans to lead the PLP into the next general election.