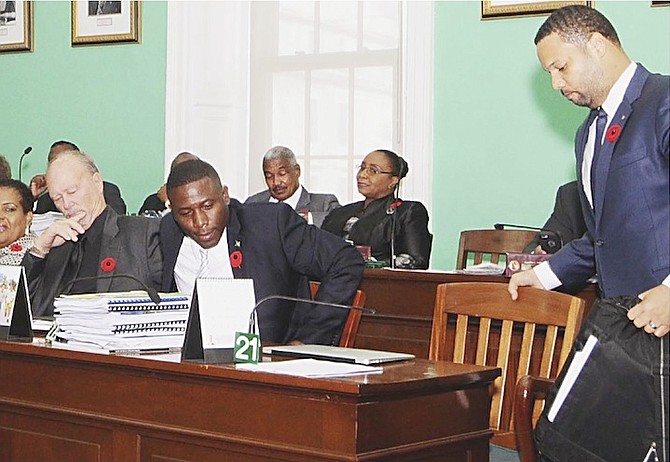 Reader poll
135 total votes.
By KHRISNA VIRGIL
Tribune Staff Reporter
kvirgil@tribunemedia.net
FORT Charlotte MP Dr Andre Rollins and Bamboo Town MP Renward Wells yesterday joined the opposition Free National Movement after a long run of frosty relations and contention with the Progressive Liberal Party.
In response to the move, Prime Minister Perry Christie described the PLP as a big tent with a revolving door as he told parliamentarians that he had long expected both men to cross the House of Assembly's floor.
Mr Christie suggested that he was now considering drafting legislation to block MPs from switching sides without resigning from their seats, which would cause a bye-election, as they are elected by voters to represent a particular political party.
While congratulating the MPs, Mr Christie also suggested that his party's success in the upcoming 2017 general election would not depend on Wednesday's events, but with the Bahamian electorate.
He stood in the House to respond to both MPs after they read passionate resignation speeches in the morning session of Parliament.
Dr Rollins quit the party and became an independent MP in June saying he no longer felt wanted in the PLP. This came after months of contention with members of the PLP as he frequently criticised Mr Christie and the party's governance.
Mr Wells was fired as parliamentary secretary by Mr Christie in October 2014 after becoming embroiled in several months of controversy on signing a $600m letter of intent with Stellar Waste to Energy Management without the proper authorisation.
He was the third MP to quit the PLP since the party was elected to government. Marco City MP Greg Moss left the PLP in June.
The MPs were granted permission to make
personal statements in the House of Assembly yesterday by Speaker Dr Kendal Major. He said prior to the session, the statements were reviewed and were thought to be of national importance.
Following several statements by ministers, Mr Wells made a passionate address in which he reflected on his time in the PLP and called his signing of the LOI a "teachable moment," using the phrase frequently used by Mr Christie.
Mr Wells said: "Mr Speaker this brings me to the very public matter of the letter of intent signing. Notwithstanding the words and actions of senior politicians, I have taken responsibility for the LOI matter because I proceeded without written approval. As some would say that was a teachable moment.
"From that teachable moment and onward, Mr Speaker, I began to transition both mentally and emotionally to the point where I ceased to be a member of the Progressive Liberal Party.
"This moment in this Parliament for me is just such a transition. There is a time and a season and a purpose to everything under heaven. A time to be born and a time to die. A time to sow and a time to reap.
"Mr Speaker, there is also a time to associate oneself and to disassociate oneself (and) at this juncture in my life, Mr Speaker, and the life of this nation, I choose to formally disassociate myself from the PLP.
"I now choose to associate myself with the alternative government and all those who seek new leadership and a better, brighter, booming Bahamas. I, therefore, wish to advise that I am joining forces with the members of the Free National Movement and wish to be reseated in this honourable House."
He then proceeded to move his belongings from the backbench and reseat himself on the front opposition bench to the applause of FNM MPs.
Dr Rollins then stood, saying he was removed from a party that helped him to be elected to Parliament. He said he was hopeful that his constituents would understand the move and endorse the actions.
"The offence for which I was tried and convicted was that I dared to tell the emperor that he has no clothes," Dr Rollins said. "My strong convictions and passion to see positive changes in the governance and development of this nation were not appreciated.
"I ran into a wall of resistance built on a foundation of intolerance to internal dissent. The promises of change were hollow, as our nation continues to be beset by the same problems I cited when I joined that party almost five years ago. Sadly, under its watch as government, these problems have grown worse. I am left with two choices. I can resign myself to the notion that our problems are too big to be fixed and retreat from public life; or I can stay the course and continue to fight for change alongside those who share the conviction that our nation has a future worth fighting for."
He added: "Mr Speaker, while I concede that I am prepared to give up on a political party that refuses to embrace change, I refuse to give up on my country and the Bahamian people who desperately want to see this country change. Let there be no doubt about my commitment to stay the course and fight for a more secure and prosperous future for our beloved Bahamas. It is time to turn the page on the past and move into a new chapter in our nation's future.
"I exercise my conscience by joining the ranks of the members of the Free National Movement here in the House of Assembly. May this honourable House be so advised."
In response, Mr Christie said: "Mr Speaker I want to be able to congratulate them for their decision as young Bahamians but the enormity of it I think it is important for me to impress upon the country yet again.
"This the image that Bahamians will see speaks volumes and as we move into the future those who know me knew that as a result of what happened in the last term, I had contemplated legislation to constitutionally not allow it to happen again without there being resignations.
"And it is always a challenge in our democracy of whether you say that people who are elected to one party and decide to join another party, to let the people decide or alternatively a democracy where these things happen and we allow free will to take place. So it is a challenge that we have in what is the right balance.
"But now that this has happened and I was waiting for it to happen we are able to have that kind of discussion."
Mr Christie also responded to Dr Rollins who referred to him as "an emperor" with no clothes on.
"With respect to the member for Fort Charlotte, whether the emperor is someone who we know or we (are) just making a reference to literature and the whole concept of change, the emperor in the Progressive Liberal Party has clothes on. He doesn't need the proverbial little boy to say 'oh the emperor (is) naked' because that is the true interpretation of that particular statement. It was a little boy who said the emperor is naked."