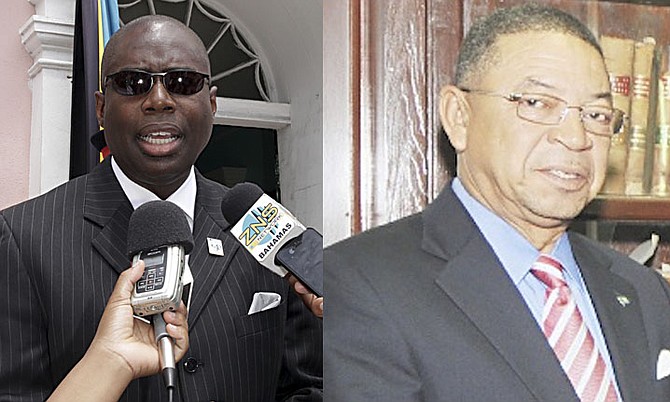 By NICO SCAVELLA
Tribune Staff Reporter
nscavella@tribunemedia.net
THE chairman of the Public Accounts Committee (PAC) has defended his position to challenge a recent order by the Speaker of the House of Assembly to suspend the committee's controversial investigation into Urban Renewal.
Hubert Chipman has also expressed doubt that the PAC's probe into the expenditures of Urban Renewal's Small Homes Repair programme will be satisfactorily resolved.
Unsure of "exactly where this will go" in terms of a resolution, Mr Chipman told The Tribune this week that the PAC would have to meet to decide the way forward. However, he stood by his previous statements that the committee would continue its probe into Urban Renewal and use all of its powers to compel the programme's co-chairs, Algernon Allen and Cynthia 'Mother' Pratt - to appear before the group for questioning - despite the ruling by House Speaker Dr Kendal Major.
And he offered no apology for his statements, which set off a firestorm in the House on Tuesday, that by seeking advice from the Office of the Attorney General concerning a parliamentary matter, Dr Major failed to respect the separation of powers that exists between the executive and the legislature.
Dr Major accused the PAC chairman of making "inappropriate and extremely contemptible" statements, adding that he felt betrayed by the member because he had private discussions with him concerning the issue beforehand.
Mr Chipman said: "That's the speaker's opinion. As far as me being in contempt, in contempt of what? Don't forget, two weeks ago I sat there and I listened to the Speaker of the house. This is his place, he runs the House of Assembly. I can't tell him what to do, but I can seek his permission which I thought I did.
"Now whether I needed to go through additional procedures, probably I could've been advised differently. But as far as I was concerned, I was just simply addressing from my point of view, and I was building the case at the time. You know I was reprimanded more or less, but I was building a case.

"I have no ill will for the Speaker. Never. But at the end of the day it was taken probably out of context, or whatever. I don't know exactly where this will go, but I believe we have a duty as the PAC to continue."
When asked if he felt the entire situation will see a satisfactory conclusion, Mr Chipman said: "I don't think it will be. My committee needs to meet and we'll have to determine what's our next step as far as going forward.
"I believe we are still within our rights based on the opinion that I have received that we can subpoena or summons the co-chairs. I just firmly believe that. Now whether the Speaker accepts that, I just think its just a matter of dealing with the clerk of the House of Assembly and if he's instructed by the Speaker not to do it then we'll have to see where we'll go from there."
On Tuesday, a fight erupted in the House after Mr Chipman, the MP for St Anne's, took to the floor moments before the House prepared to adjourn its session to the following day for Prime Minister Perry Christie to deliver his budget communication.
Members of the governing party, the Opposition and Dr Major argued for nearly 30 minutes over the PAC's rejection of Dr Major's recent order to suspend the committee's investigation into Urban Renewal. Members on both sides stood on points of order, shouted, struck their desks and accused those opposite of misunderstanding House rules or trying to stifle democracy.
Two weeks earlier Dr Major ordered that the PAC "stay its hand" in investigating Urban Renewal 2.0 until Parliament has addressed issues relating to an Auditor General's report, which raised concerns about weaknesses in the management and expenditure of the programme. His decision came after he consulted with various people and determined that the PAC can only examine documents that have been tabled in Parliament and could only send for persons, papers or records if a parliamentary resolution allows it to do so.
However, in agreeing with PLP Fox Hill MP Fred Mitchell that Mr Chipman was "attacking" the Speaker and breaching parliamentary procedure, Dr Major said: "Attacking the ruling of the chair, that's exactly what you're doing, there's no other way to put it … I have spoken to you privately about the matter. We left that conversation with an understanding. The understanding was not for you to stand in this place at this time and to do what I know not of.
"That is inappropriate, it is unfair, it is a low blow … You have every reason to say as you wish but you are wrong to stand in this place and attack a ruling which clearly speaks to Rule 45.3, that if any member has a difficulty with the Speaker or the confidence of the Speaker then you come to this place on a substantive motion and ask for a vote of no confidence. If you are not prepared to do it, the ruling is irrevocable.
"You have no right to stand here and beckon to what is right or wrong and tell me who I should consult with and who I shouldn't be consulting with. That's inappropriate and extremely contemptible."
Mr Chipman said he didn't believe he had breached the Speaker's trust. "I believe that, like I said and I admitted I had several conversations with the Speaker as far as an understanding is concerned. Clearly I told him what I wanted to do. I told him at the time that I wanted to address his opinion. I said I seek legal opinion and I would like to present that. He also advised me at that particular time that I needed to go and speak with the House leader, the honourable Dr BJ Nottage. I spoke with my team, and it was suggested at that time that I do it at the adjournment."
The PAC had previously asked the Auditor General to investigate Urban Renewal and its Small Homes Repair Programme. His report found numerous areas of concern and weaknesses related to management and expenditure. After the report was leaked to the media, the Urban Renewal co-chairs refused to appear for a scheduled hearing of the PAC. They said the audit had not gone through the proper parliamentary procedure and was therefore illegal. The co-chairs said they would appear at an appropriate time, once the audit was off the table of questioning.
Afterwards, Mr Chipman said he would use the committee's power to subpoena the co-chairs. However, Dr Major did not authorise this request.