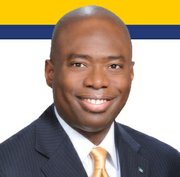 By TANEKA THOMPSON
Tribune News Editor
tmthompson@tribunemedia.net
SPEAKER of the House Dr Kendal Major said he does not fear any political fallout after he clashed with senior members of the PLP for allowing Opposition Leader Dr Hubert Minnis to make a communication about embattled MICAL MP V Alfred Gray.
During a heated and contentious afternoon session of the House on Wednesday, Dr Major had to repeatedly defend his decision to allow Dr Minnis to speak from passionate challenges from several PLP MPs, including Fred Mitchell, Philip "Brave" Davis, Damian Gomez and Dr Bernard Nottage.
Yesterday, Dr Major told The Tribune he had never witnessed a House of Assembly session like Wednesday's, which saw a speaker under such heavy fire from members of his own party.
"I don't fear any fallout," he said. "I don't expect any fallout. I have no fear, I am unmoved and unbothered. I thought what I did was the right thing to do."
When asked if he received any feedback from the PLP, he said he hadn't, adding, "I don't expect any."
He also said he was "not concerned" about the possibility that his stance could affect his chances at a nomination for the 2017 general election.
"(It's more) important to be impartial and to exercise (my duties) with the upmost integrity. That's what is important to me, serving God not man."
In trying to prevent Dr Minnis from making his contribution in the House, Dr Nottage, the Bain and Grants Town MP, stood on a point of clarification and asked the Speaker to verify by what ruling he was allowing Dr Minnis to make his comments.
Dr Nottage informed the Speaker that, for such a ruling to stand, the House would have had to be presented with a motion of suspension.
Dr Major asserted that the House had not been suspended and explained that he made a ruling that granted permission to the leader of the opposition to present his statement.
The speaker informed Dr Nottage that he was operating under the purview of rule 48 of the House's rule book.
That response prompted both Mr Davis, the MP for Cat island, and Mr Gomez, the MP for Central and South Eleuthera, to stand on a point of order, indicating that under rule 48 Dr Major still did not have grounds to grant statements by Dr Minnis.
The MPs claimed that rule 48 gave the Speaker the power to make such a ruling to allow for House debate, but not statements.
However, Dr Major stood firm and allowed Dr Minnis to speak.
At one point, Dr Major was forced to call a brief suspension of the House because government MPs banged on their tables as Dr Minnis tried to speak. Earlier that day, opposition MPs did the same thing when Mr Gray tried to table a document, also prompting Dr Major to suspend the House briefly.
Dr Major described the dramatic session as "peculiar" and "somewhat surprising".
"Members have a right to question, all members have a right to question but the discretion of the chair should in my view supersede (that) and the chair has used his discretion up to this point," Dr Major told The Tribune. "And sometimes discretion was used in the favour of various persons and various sides and that's how debates are. Today you may get what you want and tomorrow you won't. It's an ebb and flow, so I'm not surprised that it's questioned."
Dr Minnis' communication touched on the "alleged troubling abuse of power and unconstitutionality" on the part of Mr Gray and called for his resignation from Cabinet.
Mr Gray is under scrutiny after the Free National Movement accused him of alleged judicial interference. In light of the scandal, Mr Gray has been relieved of his local government portfolio, but still retains his job as minister of agriculture.
The police are investigating the matter.