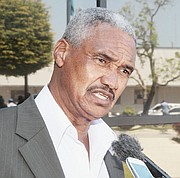 By KHRISNA VIRGIL
Tribune Staff Reporter
kvirgil@tribunemedia.net
TALL Pines MP Leslie Miller said he believes the "volatile" actions of Fort Charlotte MP Dr Andre Rollins were birthed from his frustrations of being backed into a corner, unable to have an influence on the country's development.
Mr Miller was present in the House of Assembly on Wednesday night to witness Dr Rollins' verbal attack on the Progressive Liberal Party, which ended with him quitting the governing party.
This situation, Mr Miller told The Tribune, was troubling because it led House Speaker Dr Kendal Major to hint at the government possibly replacing him after several PLP MPs repeatedly tried to undermine his judgment in allowing Dr Rollins to speak on Wednesday night.
"My main concern was from all indications and what the Speaker had to say was that he felt so strongly that he was ready to quit as Speaker," Mr Miller said. "Dr Rollins was really carrying on bad in the House, I mean it was disheartening.
"In all my 28 years in politics, I had never seen anything like that. I was quite shocked… taken aback even."
The uproar began after Deputy Prime Minister Philip Davis moved the question to end the budget debate. However, Dr Rollins rose in protest and accused the government of trying to muzzle him, because he had not given his budget contribution.
However, Prime Minister Perry Christie said Dr Rollins missed his allotted time to speak, but decided "he would do it on his time". The Speaker ultimately ruled in Dr Rollins' favour.
Mr Miller told The Tribune that Dr Rollins had a bright future.
"I like Rollins. I believe he is very good on his feet and is very intelligent. He can go toe-to-toe with any MP in the House of Assembly," he said.
"But he just needs to calm it down some. He has a lot to offer this country.
"But if you look at his history along with (Bamboo Town MP) Renward Wells, they had their own party. It was theirs. I think a lot of this disrespect is because they led their own party, they saw themselves as leaders. They then disbanded, ran and successfully won. They now see themselves on par with the prime minister.
"But what they all must appreciate, including Greg Moss, is the fact that if it were not for the Prime Minister Perry Christie and the Progressive Liberal Party, neither of them would have seen the halls of Parliament. They should show respect and appreciation."
Mr Moss quit the PLP on June 8, citing problems with the party's leadership.
Yesterday, PLP Chairman Bradley Roberts issued a press statement thanking Dr Rollins for his service to the party and wishing him well in his future endeavours. He said the party awaited a formal resignation letter from Dr Rollins.
The statement read: "The Progressive Liberal Party observed from the proceedings of the House of Assembly that the MP for Fort Charlotte Dr Andre Rollins announced that he would be resigning from the party, we await his formal letter of resignation in fulfilment of the same.
"The PLP thanks Dr Rollins for his service and to wish him well in his future endeavours."
Mr Roberts reminded Dr Rollins that during his political run he was privileged to represent the good people of Bains and Grants Town. He said for 25 years he represented the constituency because he understood that he was a servant of the people and never abandoned his obligation nor turned his back on his constituents.
The Fort Charlotte Branch of the PLP is expected to issue a statement today.
During Dr Rollins' three years as a PLP MP, he butted heads with several of his colleagues in Parliament. He was fired last August as Gaming Board chairman by Works Minister Philip "Brave" Davis, after he issued a scathing criticism of Prime Minister Perry Christie's leadership.
Earlier that month, he resigned as the PLP's whip because of deep-seated reservations over the four Constitutional Referendum Bills before the House.