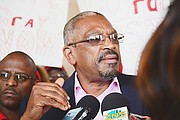 By KHRISNA VIRGIL
Tribune Staff Reporter
kvirgil@tribunemedia.net
A NOTED attorney yesterday confirmed "leadership issues" within the Free National Movement as he expressed hope that another convention will be held by the end of the year to put an end to the party's internal struggles.
FNM legal advisor Michael Scott spoke out publicly against party officials "cutting our wrists in public" explaining that the opposition's issues should be dealt with internally.
His comments came while he was a guest on Star FM's radio show "Jeffrey" with host Jeff Lloyd. He was responding to questions from the host about the media's reporting over power struggles in the FNM and reported dissatisfaction with party leader Dr Hubert Minnis.
Reader poll
66 total votes.
Mr Scott said: "Let me put it to you this way. I don't think that we should be as it were, cutting our wrists in public. We have our leadership issues. There are perceptions publicly and there are views expressed internally."
"There are various factions and schools of thought (and) the leadership issue is something that is going to have to be resolved and it is best resolved internally. I have my views, others have their views, but I think that is a matter that should be left solved internally through a convention and hopefully that will come to fruition by the end of this year."
Dr Minnis could not be reached for comment on Mr Scott's statements.
However, when contacted, FNM Chairman Michael Pintard said there are no current plans to hold a convention this year. He declined further comment on Mr Scott's point of view.
Meanwhile, another party official who spoke on the condition of anonymity, cautioned supporters to be careful of speculation and "mischief makers" who disseminate untruths to paint the picture of a troubled party.
"There are people who want to cause issues for the Free National Movement," the source said. "They know this party is in the midst of gearing up to fight an enormous political battle.
"These people who are out there spewing garbage about the party are out to paint this party as unstable with a view to preventing the organisation from gaining the funding needed to win the next general election.
"While there are those who are elated to have Michael Scott as an active force in the party, he has not contributed to one iota of this party over the last three years," the FNM source said.
"Show me where Michael Scott has assisted the FNM with the heavy lifting? Scott should sit down."
Last month, concerns of turmoil in the party were reignited after scathing criticism about the party's leadership came from former Deputy Prime Minister Frank Watson.
At the time, Mr Watson said that the FNM is not yet ready for the next general election. He further suggested that Dr Minnis was not a fully formed leader and is a "work in progress" who did not take advice from more seasoned politicians.
Not long after, FNM Deputy Leader Peter Turnquest sought to downplay any perceived issues.
Mr Turnquest said at the time: "Unlike other political parties who seek to tamp down any public debate or obvious inside dissension under a cloud of secrecy at all costs, which often carries over into their public service lives, the FNM does not aim to do such.
"The FNM was founded on the principles of transparency and public debate to flesh out ideas to move the country forward. We, therefore, are not disturbed by Mr Frank Watson's comments although he clearly shares a minority view in the party based upon the last convention results and current support."
The FNM held a convention last November where Dr Minnis and then FNM Deputy Leader Loretta Butler-Turner went head to head for the party's top post.
Dr Minnis won his race by a considerable margin, however there have been persistent reports since then that many party officials are unhappy with his performance.
Mr Scott was recently in the spotlight after he provided a legal opinion to the Public Accounts Committee as it continues to fight to interview Urban Renewal 2.0 Co-Chairs Cynthia "Mother" Pratt and Algernon Allen.