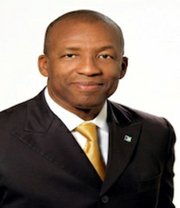 By RASHAD ROLLE
Tribune Staff Reporter
rrolle@tribunemedia.net
WHILE the Progressive Liberal Party regretted its decision of having nominated Dr Andre Rollins in the Fort Charlotte constituency, former area MP Alfred Sears yesterday said he is "available" and willing to return to party politics "in any way the party wishes".
Mr Sears, who did not offer himself for nomination in 2012, nonetheless stopped short of saying he is interested in returning to his old seat or to front-line politics at all.
PLP Stalwart Councillor Valentine Grimes strongly hinted to The Tribune last week that the party will not renominate Dr Rollins as its representative in the Fort Charlotte constituency for the next general election. According to him the parliamentarian "stands no chance of political survival".
Dr Rollins has railed against the PLP in the past year, with his strongest critique being that the country needs new political leadership.
In view of this, PLP insiders have hinted that the party would encourage Mr Sears to reclaim his seat on behalf of the PLP in the next general election.
One party source yesterday noted that Mr Sears has not been agitating to replace Dr Rollins, but is content to let the chips fall where they may in the matter.
When asked about the speculation, Mr Sears said: "I'm committed to the party and it knows I'm available to return in any way the party wishes. As a team player, the party has a representative and I won't want to disrupt that representation."
Marco City MP Greg Moss resigned from the PLP last week, citing the party's move away from the philosophy on which it was founded as one of the reasons for his decision.
Mr Grimes dismissed Mr Moss' resignation as insignificant, giving Mr Moss and Dr Rollins as examples of the kind of candidates the PLP should not renominate in the future.
"It was an excellent idea, (to introduce a new generation of leaders)," Mr Grimes said last week, "but some ideas are more fruitful than others.
"This (Mr Moss) was one that didn't pay as much dividends as it could have, but there are good examples: Khaalis Rolle, Dion Smith, the Speaker (Dr Kendal Major). Moss didn't work out and it's obvious it doesn't appear as if Rollins will work out. Moss was not a team player. When persons start off on the mindset of not being a team player, this happens. Rollins is already out there and stands no chance of political survival," Mr Grimes said last week.