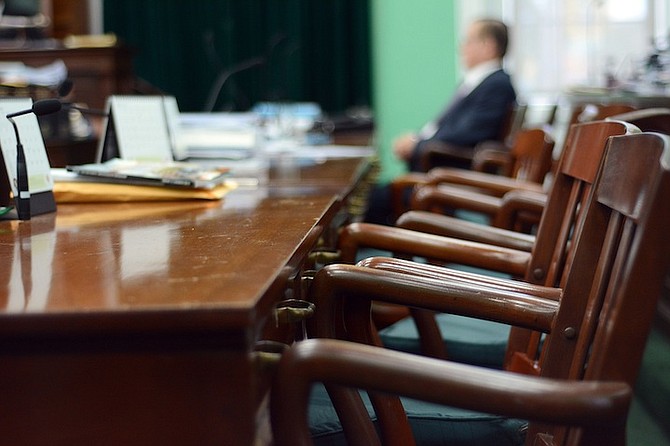 By KHRISNA VIRGIL
Tribune Staff Reporter
kvirgil@tribunemedia.net
FNM Leader Dr Hubert Minnis, St Anne's MP Hubert Chipman and Central Grand Bahama MP Neko Grant were suspended from yesterday evening's House of Assembly session after they repeatedly defied Speaker Dr Kendal Major's orders to cease their protest against MICAL MP V Alfred Gray.
Following the opposition members' ejection from the session, Dr Minnis told The Tribune that the Free National Movement will remain resolute in its position to oppose Mr Gray each time he speaks in the Lower Chamber.
The party has criticised Prime Minister Perry Christie over his handling of allegations that Mr Gray interfered in a court case after Mayaguana Administrator Zephaniah Newbold sentenced 19-year-old Jaquan Charlton to serve a prison sentence for assaulting a police officer.
He later released the man, alleging that Mr Gray threatened him into doing so – a claim Mr Gray has strongly denied. After a police investigation into the claims, the Office of the Attorney General decided not to pursue charges against anyone.
The row began as Mr Gray stood to make a contribution to the 2015/2016 budget debate. However, as he began to speak, several opposition MPs violently banged their desks preventing the MICAL MP from continuing.
This angered seated PLP parliamentarians, who shouted from their seats in protest. It also led the Speaker to raise his voice and stand, demanding that the session come to order.
He warned the opposing MPs to discontinue banging on their desks.
He said: "Members you are showing utter disrespect, both sides, but let me say this for the record, the member for MICAL has a right to speak in this place today. You are not going to deny him that right. I am not sure of your intention, but unless you are cheering him on you are not going to come here and make noise to disrupt and molest the member.
"The same way we are trying to avoid molestation of every single member in here, how can I protect you when it is your turn to speak?
"This is your warning. If you are going to knock on the desk and try to disrupt the honourable member for MICAL stand to your feet and waltz out of this House right now because it will not be allowed and consider yourself suspended. Period. I am not going to tolerate it. It is childish, it is embarrassing and you have no right."
Long Island MP Loretta Butler-Turner had left the session just as Dr Major openly rebuked her colleagues. This reignited speculation that discord is prevalent within the FNM.
She later told The Tribune that despite her early departure, she supported the actions of her colleagues.
Mrs Butler-Turner said: "I did take part and I did hit the desk as my party did in protest of MICAL MP Gray speaking. I did walk out as he (Dr Major) was suspending, but I do stand with my party.
"I knew he would suspend after I saw him stand so I left after the banging of the desks was complete."
Despite Dr Major's stern warning, the remaining opposition members continued to bang on their desks as the MICAL MP again attempted to make his budget presentation. The session was then suspended for several minutes, with Dr Major ordering Dr Minnis, Mr Chipman and Mr Grant to leave the chamber.
Montagu MP Richard Lightbourn was also in the chamber, but was not named or suspended by Dr Major. However, he also left with his colleagues.
"V Alfred Gray has interfered with the judicial process and he should not still be allowed to operate as a Cabinet minister," Dr Minnis later explained to this newspaper. "When a civil servant commits an offence, they are suspended or are placed on administrative leave. Why wasn't the same done with him? We will not tolerate two sets of laws here.
"The FNM's position is firm and we will remain resolute. Alfred Gray will not speak in this House."
Asked why the opposition decided to stage its protest of Mr Gray during such a crucial debate as the budget, Dr Minnis responded: "All they (the government) had to do was fire him and not allow him to speak."
When the session continued after the brief suspension – with Central and South Abaco MP Edison Key as the only opposition member present – Dr Major said the three MPs named were in violation of House protocol.
"They began to violate Rule 87.3. By the authority, the following members were suspended for the remainder of the sitting today (Monday): member for Central Grand Bahama, member for Killarney and the member for St Anne's .
"I would also like to encourage members on the other side that despite the challenges and the increase in temperature as it relates to the matter, you are not to take matters into your own hands and feel it necessary to also repeat the events that transpired here today."
Bains and Grants Town MP Dr Bernard Nottage, standing on a point of order, said the opposition was in contempt of the Speaker and guilty of disrupting Parliament.
Dr Nottage, who is also the leader of government business in the House, said because of the opposition's actions there will be consequences.
"It cannot be that those members can merely waltz back into the chamber and expect us to make accommodations for them," he said. "The budget debate has a prescribed time in which we would like it to be completed and there is a sequence that (there are) three government (speakers) to one opposition.
"If they choose to absent themselves from Parliament or to have themselves suspended after the Speaker has warned, that has consequences for the rest of this sitting," Dr Nottage said.
The FNM is expected to return the House of Assembly at its next sitting.
On March 25, the FNM took the same action against Mr Gray when he tried to speak in Parliament. That same day, Mr Christie revealed that Mr Gray had been relieved of his post as minister of local government pending the police investigation. However, he remains minister of agriculture.