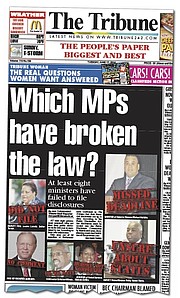 By TANEKA THOMPSON
Tribune News Editor
tmthompson@tribunemedia.net
BAHAMIAN voters deserve transparency and accountability in government in tangible ways, not just lip service.
While it sounds good for those in opposition to throw out these words to gain political traction from a frustrated citizenry, we know from experience that when our "honourable" elected officials reach the esteemed halls of Parliament and Cabinet, they forget the promises of openness and answerability they pledged to uphold.
There are so many elements of government shrouded in secrecy and ways to protect instead of expose politicians to scrutiny that it should make all of us sick.
For example, it has been nearly a year since Prime Minister Perry Christie told parliamentarians that the Public Disclosure Commission was concerned that many elected officials were flouting the law by not turning over their annual financial disclosures.
On June 18, 2014, Mr Christie urged those who were not compliant with the law to quickly do so. He did not reveal which politicians had broken the law, nor did he say if he had been up to date with his yearly disclosures.
The Prime Minister's comments came after repeated questioning by a Tribune reporter and after several articles were published in this newspaper about the disregard, some of it admitted, politicians have for the Public Disclosure Act.
"I just want to be able to say that this is a requirement, that I will be causing those persons who have not yet disclosed to know that it is expected and to make every effort to submit their disclosures to the Disclosure Commission. It is an important requirement," Mr Christie said last June.
"A few years ago the clerk of the House pointed out to me the disclosure provisions of the Parliament of the United Kingdom and it is worthy for us at some stage or other to see in fact how they go about with their public disclosures, so as to minimise the extent to which there could be public embarrassment unnecessarily by provision in the law," he added.
Section 8.1 B of the Public Disclosure Act requires MPs and senators to file their annual disclosures for the period ending December 31 of the previous year by March of each year. The Act states that any person who does not comply with the law is liable to a fine not exceeding $10,000 or imprisonment of not more than two years.
According to the law, if a parliamentarian deliberately does not disclose property owned in the Bahamas, the land can be seized and forfeited to the government.
A summary of the declarations should be published in a gazette, the law says. This has not been done since 2012, before the last general election. No doubt it will not happen again until right before the next election, some time in 2017.
For some reason, our politicians bristle when asked about the status of their disclosures although they will flap their gums in front of a microphone over the most banal issue. And because they are not held to account over the matter, it is continuously swept under the proverbial rug.
It is in the public's best interest, and it is our right to know, how much richer - or poorer - those we have elected to office have become in the past three years.
Since last June, little if anything has been said about the finances of elected officials, save for the pleas from Speaker of the House of Assembly Dr Kendal Major, who recently appealed on behalf of himself and others in the Lower Chamber to have their constituency office allowances raised to make it easier to address the needs of those they represent.
Dr Major opined that it was difficult for members of Parliament, who are not Cabinet ministers or appointed to some public office, to afford the monthly upkeep of a constituency office with the stipend they were allotted.
These pleas have been answered and last month, Minister of State for Finance Michael Halkitis tabled a bill in the House that will raise the annual constituency office allowance of members of Parliament by $12,000 to $30,000 a year.
I'm sure the cost of operating a constituency office is high when you factor in electricity and other utility bills, staff salaries, etc. However, we do not know how many of these constituency offices are open on a regular basis, their office hours, or how the money is being spent.
The same goes for the larger constituency allotment of $50,000 a year that MPs get for capital work and infrastructure upgrades in the areas they represent.
Presumably the breakdown for this expenditure is sent to the Ministry of Finance; however this information is never made public, so an assessment cannot be made on how well our officials are performing and if they deserve more money to carry out their work.

So why should our politicians get more money, when we do not know how wisely the funding they received in previous years was doled out?
Additionally, in light of the world football bribery scandal whose tentacles have so far ensnared a local CIBC FirstCaribbean International executive and the more than a decade old BEC bribery allegations, which came to light last year, transparency in the finances of our elected officials is more important than ever.
These instances make it even more imperative that the voting public have a view of the assets of those we place in high office, to ensure as best we can that their pockets are not getting inexplicably fatter while they are doing the people's work.
But if there are no demands for such information, no public outcry about the information that is willingly suppressed, how can we expect those who are put in such important positions to police themselves?
As Valdimer Orlando Key Jr, a 20th century American political scientist, once put it: "If politicians see voters as most certainly responsive to nonsense, they will give them nonsense. If they see voters as susceptible to delusion they will delude them. If they see an electorate receptive to the cold, hard realities, they will give it the cold, hard realities."
• What do you think? Email comments to tmthompson@tribunemedia.net