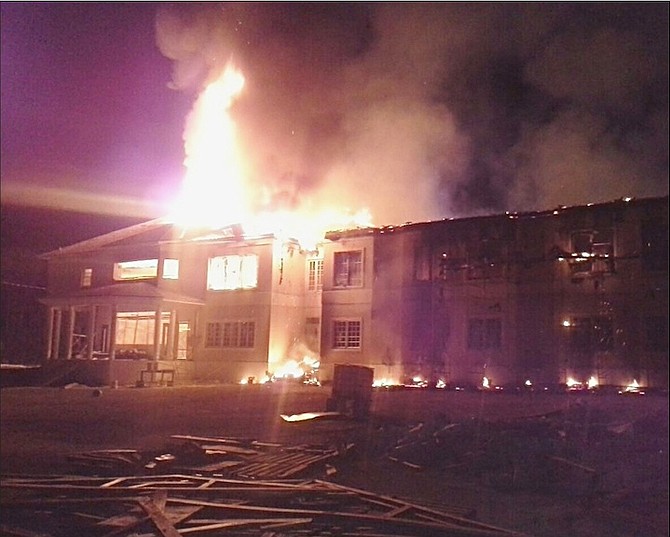 By SANCHESKA BROWN
Tribune Staff Reporter
sbrown@tribunemedia.net
IT WILL cost over $120,000 to repair the male dormitory at the Bahamas Agriculture and Marine Science Institute after last week's fire gutted the building, according to BAMSI contractor Audley Hanna.
Mr Hanna said the cost is expected to rise after a team from the Ministry of Works, which arrived in Andros today from the capital, completes their assessment of the damage. The contractor also added to speculation that a disgruntled employee started the fire, telling The Tribune: "That is a possibility."
His comments come two days after Fire Chief Superintendent Walter Evans confirmed to The Tribune that the fire was the result of arson.
He said several persons were assisting police with their investigations but declined to comment on whether police believe one of these persons started the blaze.
"We were waiting on a cheque from the first of December which we did not get, so the last cheque that we got was right before Christmas," Mr Hanna said yesterday. "It was about eight employees that did not get paid but I do not think it was one of them."
"We did have an incident with one sub contractor that claimed we owed him more money. We paid him, but he wanted more. He carried on really bad and made threats, the police had to be called. So, maybe that is what people are talking about, but the police know the information and we just have to wait for them to finish their investigation. The Ministry of Works is assessing the damage and my engineers are assessing the damage, but at last count it was about $120,000."
Mr Hanna said he expects insurance to cover the cost of repairs.
Meanwhile, Agriculture Minister V Alfred Gray has denied speculation that the fire may have been started by disgruntled contractors who had not been paid by the government.
Supt Evans led a team from Nassau to Andros Thursday night to investigate the fire, which reportedly started sometime before 7pm.
Firefighters battled the blaze until shortly after 11pm.
The blaze left the male dormitory severely damaged.
BAMSI is a major government initiative established in an effort to reduce the country's reliance on food imports.
Students began studying at the institute last year following construction delays.
This year's courses began last week, with the arrival of 10 students who will study with 45 others from nine different islands who registered for the institute's associate's degree programmes last year.
In June last year, Bahamas Public Service Union (BPSU) President John Pinder said he was investigating claims that some construction workers at the institute had not been paid overtime.
Mr Pinder also said he had received complaints about unfair practices by the contractors, including issues of hourly rates and how Bahamians were allegedly being treated compared to foreigners. He has also heard concerns from some workers over the status of National Insurance Board contributions on their behalf.