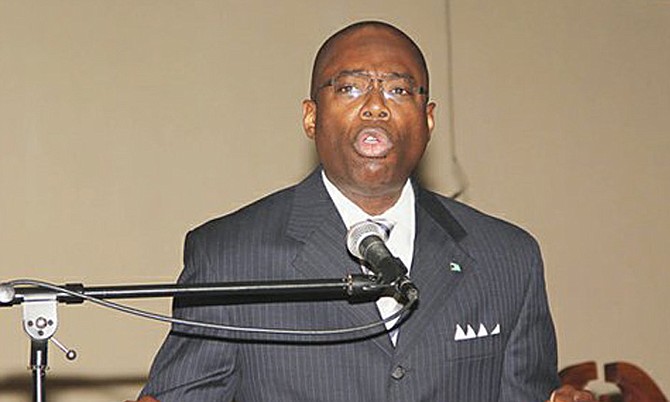 By RASHAD ROLLE
Tribune Staff Reporter
rrolle@tribunemedia.net
SPEAKER of the House of Assembly Dr Kendal Major instructed a parliamentary committee yesterday to investigate recent comments by Stellar Waste to Energy CEO Fabrizio Zanaboni, who claimed that some parliamentarians requested money from him even though he had business before the government at the time.
Dr Major urged the House Committee of Privilege to determine if there has been a breach of parliamentary privilege in the matter.
The committee members are Central and South Eleuthera MP Damian Gomez, Marco City MP Greg Moss, Mount Moriah MP Arnold Forbes, Central Grand Bahama MP Neko Grant and Long Island MP Loretta Butler-Turner.
The controversy arose after The Nassau Guardian published comments attributed to Dr Zanaboni in which he said parliamentarians from both major political parties have sought contributions from him ranging from $200 to $300 for community-based events.
Without revealing names, Dr Zanaboni stressed that these were not election contributions.
The claims highlighted the longstanding gaps in this country's public disclosure system when it comes to issues like financial contributions for campaigns and constituencies.
Dr Zanaboni's company has proposed to build a waste-to-energy facility at the New Providence landfill.
Last week, Mr Grant stood in Parliament to condemn the comments. This led Prime Minister Perry Christie to urge the Speaker to intervene in the matter.
Since then, Dr Zanaboni has written to Dr Major, apologising to members of the House and "to the Bahamian people at large" for possibly offending them.
House of Assembly members snickered as Dr Major read Dr Zanaboni's letter, which said: "A number of my comments were taken out of context as well as they were used to incite and sell more newspapers. I am Italian, and have a hearing problem, and sometimes I have difficulty understanding when someone asks me a question, so I tend to stay away from speaking out all together. I never meant to suggest that any member was asking for a bribe, as said, I have never even been asked by any of them, and it was most certainly never my intention to tarnish in any way the honourable men and women who represent this country in the House of Assembly."
Dr Major said the House has determined via consensus that contempt may have taken place in the matter, hence the need for it to be investigated.
The committee has the power to require any witness to attend a hearing or produce documents.
He urged the committee to investigate the matter and bring its recommendations to the House during a sitting in mid-January.