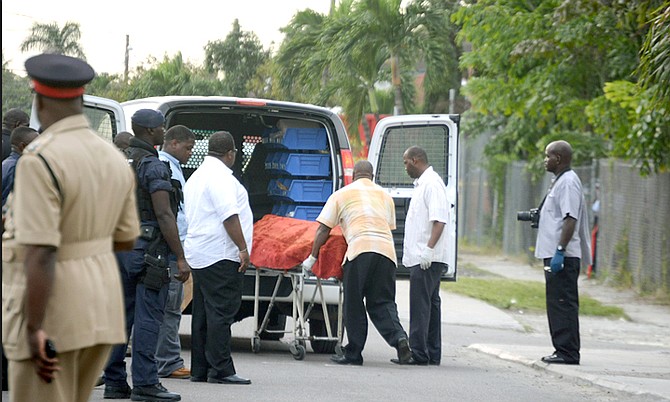 By RASHAD ROLLE
Tribune Staff Reporter
rrolle@tribunemedia.net
THE Royal Bahamas Police Force is following "significant leads" into the case of a man who was shot dead in Nassau Village Friday afternoon.
Police Superintendent BK Bonamy Jr said the victim was walking in front of his home when suspects pulled up in a vehicle and shot him, fatally wounding him.
"Shortly around 3pm police received a call of a male being shot at Alexandria Boulevard here in Nassau Village," Mr Bonamy said at the crime scene on Friday. "Officers responded and on arrival they met a male lying on the side of the road with multiple gunshot wounds to the body. EMS was contacted and after their examination they concluded that the male had succumbed to his injuries.
"Only information we have thus far is that shortly after 3.05 the deceased was walking on Alexandria Boulevard and a black Odyssey vehicle pulled up and opened fire on him. We don't know the motive at this time but we want to appeal to people who may have seen something to give us a call."
As officers conducted preliminary investigations, onlookers gathered at the scene screamed in anguish.
Children on their way home from school were among those forced to wait behind the yellow caution lines as officers secured the scene.
Residents of the area identified the victim as Johnell Pierre.
One woman, Bonita Lindo, who said she was in a web shop across the street from the scene when the shooting took place, said the victim was the father of one of her grandchildren.
"My daughter just had a baby for him," she told the press as she lamented "another senseless killing".
"The baby ain't even a month old. He has four children. The hurtful part is the children (play) in the yard there. Suppose they did hit one of those little children? They have to realise they have mothers, they have sisters and these children could be hurt when somebody come back and do this so they have to stop this foolishness because, guess what, innocent would be suffering for the guilty if this don't stop. "This blood they shedding ain't make no sense."
Although there was a larger than usual presence of heavily armed police officers at the crime scene, Ms Lindo claimed the police are never in the area to help prevent crimes and are only there to remove dead bodies.
"The police come when they ready," she said. "I stop calling them."
Recalling a previous incident she said: "I called and say 'Officer, a gentlemen running a next man through Matthew Street with a gun, could y'all please come?' He tell me, 'Man y'all kill up one another. When y'all finish we'll pick up them in a body bag.' Now, that's anything for an officer to tell person?
"The police need to start doing something with Nassau Village, even if you have to put a bus on the corner here. They need to do something because this ain't making no sense. You could imagine you sitting in your yard, people pull up in your yard with a gun, you don't even know what's going on, but they shoot up your yard for nothing?"
On November 17, heavily armed officers flooded the streets of Nassau Village moments after a 22-year-old father of one was shot multiple times and killed while walking in the area.
According to police, the victim was walking on Butler Street when he was approached by a grey vehicle from which two men opened fire.
Friday's killing brought the murder count to 138 for the year.