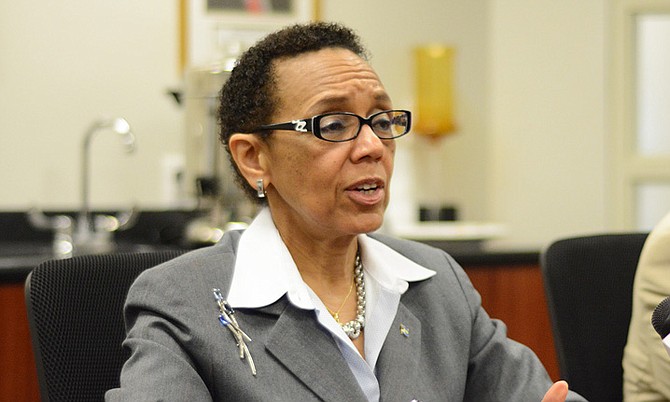 By RASHAD ROLLE
Tribune Staff Reporter
rrolle@tribunemedia.net
THREE years after Prime Minister Perry Christie called for the establishment of campaign finance laws, it remains unclear when, or if, his administration will ever introduce them.
This ambiguity exists despite the progress made on the matter by neighbouring countries, recommendations from the Organisation of American States (OAS) and calls from Bahamians eager for a more transparent political process.
"It's in our manifesto," Attorney General Allyson Maynard Gibson said recently when asked if the Christie administration intends to introduce such laws this term.
She added: "It's a matter for discussion between the prime minister and the leader of the opposition."
When contacted on the matter, opposition Free National Movement Leader Dr Hubert Minnis said he has thrown his "unwavering support" behind such legislation.
Bahamians, he told The Tribune last week, could be assured that he would implement such laws if he becomes prime minister "so people could have completely transparent process and we could end the possibility of a government being manipulated and controlled by its financial backers."
Campaign finance laws typically emphasize that the identity of donors be disclosed to the public and they often place limits on how much money donors can give in an election campaign and who could be eligible to contribute.
Former Cabinet minister and PLP stalwart George Smith yesterday said such laws are "long overdue," adding that the major political parties have participated in "shameless efforts" to win elections.
"(After years of other parties engaging in shameless activities), to the embarrassment of traditional PLPs, my party, in 2002, started to use money too in shameless ways. One of the questions asked of potential candidates was, 'How much money you have to spend? Do you have access to money? Do you have any financial backers?'
"And you might notice that both parties in 2002, 2007 and 2012 went after candidates who had money," Mr Smith said. "We need campaign finance reform and we need to determine whether we want foreigners to contribute to our elections and whether we feel so much money should be raised."
When asked why parties haven't prioritised the enactment of such laws, he said: "The problem is that parties in opposition say 'it's a great idea,' then they become a government and sometimes they think, 'I have the control.' Bahamian people have got to take an interest in the governance of their country, every year, inclusive of the election year and after and hold political parties' feet to the fire. The time is overdue for such laws but they will only happen if the civil society and our spiritual leaders call for them."
In its 2012 Electoral Observation Mission report on elections in the Bahamas, the OAS recommended that campaign finance laws be introduced here.
However, the OAS said the issue seemed less important to Bahamian politicians than it did to other stakeholders in the country.
"The absence of regulation has the potential to impact the accountability, transparency and equity of the democratic process," the report said, adding that the absence of legislation and tracking mechanisms to determine sources of funding is inconsistent with "general practices around the region and world."
In a recent speech to members of the Jamaican press, OAS Secretary General Jose Miguel Insulza praised Jamaica for the concrete steps the country is taking toward implementing campaign finance laws.
His remarks came after the country's election commission released a comprehensive report on the matter recommending that limits be imposed on election spending, that donors' identities be disclosed and, among other things, that private companies performing services by way of government contracts not be allowed to make financial contributions under certain circumstances.
In July 2012, two months after the general election, Mr Christie said the practice of politicians using money to persuade voters had deteriorated to "repugnant" and sometimes "criminal" levels over the past 15 years.
At the time, Mr Christie added: "We are living a lie to just continue to allow this current system that we're operating under to exist because you know and I know, and everyone else knows that a lot of things are happening, where you're taking advantage of all sorts of opportunities if you're the government and it places people at a significant disadvantage and that's not how a democracy functions. The only way (reform) is going to work is if parliamentarians agree that there is a compelling urgency to be more accountable in what we're doing, more transparent in what we're doing."