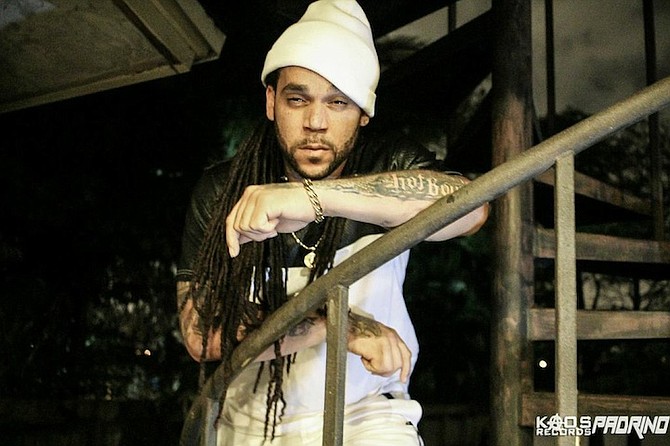 Padrino is celebrating his 34th birthday sitting behind a mixer board in a Studio in North Miami. It's likely he turned 32 and 33 doing much of the same.
His album project entitled RNIP is due to drop by the end of this summer, and he still has a lot of work to do. But, he and Grammy Award Winning executive producers Cool and Dre have a plan to release singles all summer long - the appetisers until the serving of the main course.
His long career of producing other people's tracks - and laying down his own - have finally come to a critical precipice; he is about to drop an album in the biggest Hip Hop market in the world. And he stands on the edge of either the biggest success of his life, or faces the long walk back to the drawing board. He has proven, however, that what he will not do is quit.
Musically, the last two and a half years have been rewarding for Padrino, who grew up in the Bahamas as Rory Bowe. However he last few years have also been some of the hardest years of his life.
"There has been a loss of loved ones, times that I wanted to quit, and there have been times when I worked my butt off and still wasn't able to do the things that I wanted to do financially," he said. "It's been rough. It's been very rough.
"This is the first time that i've actually stayed out of the streets. The music business is not easy… it's been very stressing. Being told over the years that you're not good enough causes you to stop believing in yourself."
Padrino explains that in his new album he and his music have come into their 'manhood', while leaving the 'hood' or gangster feel behind. In the struggle to improve himself as an artist he honed his vocals. He said fans can expect a lot more singing from him on the upcoming album.
"This album has been a work in progress for 2.5 years, but recently it took a turn for a much bigger and better direction after the addition of Cool and Dre," said Padrino. "You can expect a really grown up type of feel. You can expect a lot of tempered emotion, rage, anger and pain. The old Padrino was more aggressive, this Padrino is more calm and grown up."
He added: "It's not about the gangster stuff for me anymore; it's more about what kind of records can I leave behind that will be lasting. It's not about having a two week record anymore; it's about having a record that will last 20 years that my kids will be able to eat from."
Cool and Dre, who have produced for artists like Christina Milian, Rick Ross and Game, belive in Padrino's potential to be the next best thing on the Hip Hop scene in the U.S. and, eventually, globally.
"We've been in the studio for the past few weeks putting together an amazing body of work," Cool and Dre said in a statement. "We feel like he has the potential to be one of the greats, and we're really excited about his project."
• DON'T MISS THE WEEKEND SECTION ON FRIDAY FOR THE FULL STORY