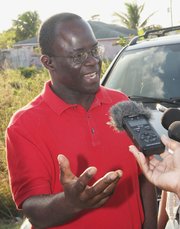 FREE National Movement Chairman Darron Cash has concerns that anti-corruption observers from the Organisation of American States may not be able to properly investigate the Christie administration, adding that there are several areas of government that need to be probed.
His comments came the day investigators from the Organisation of American States (OAS) were expected in the country to determine the Bahamas' compliance with anti-corruption measures.
"There is a concern about whether their (the observers) work will be only at a surface level and whether diplomatic niceties will prevent them from going as deeply as they should," Mr Cash said yesterday.
He said areas that should be probed are the New Providence landfill, the Bahamas Electricity Corporation, the Department of Customs, Water and Sewerage, the Ministry of Works and Urban Renewal.
Mr Cash also said the FNM has heightened concerns about possible corruption in the Department of Customs.
His comments came days after Customs officials and police announced they had seized more than $200,000 worth of stolen vehicles, ammunition and electronics after an extensive investigation into what is believed to be a major smuggling operation with ties to the United States.
"We now urge the police to intensify their investigations and let the chips fall where they may, even if it means taking full control of the investigations from the Customs Department to ensure full independence of that investigation," Mr Cash said.
He questioned whether any Customs officials might have been complicit in the smuggling ring.
He said that "over the last two years the FNM has become aware of extremely disturbing claims" of corruption within the Customs Department. He claimed that specific names had been called and "specific agencies" had also been called as having been "involved in well-coordinated efforts to defraud the government and people of the Bahamas."
He said that "sadly, there are uncorroborated concerns that the actions" of these compromised Customs officials are known to certain politicians. He said that this "potential involvement" of Customs Department officials "may be one reason for the unsettling level of timidity evident in the statements from the police."
Since news of the smuggling ring broke, police have said they cannot offer much information because the matter is being investigated by Customs officials.