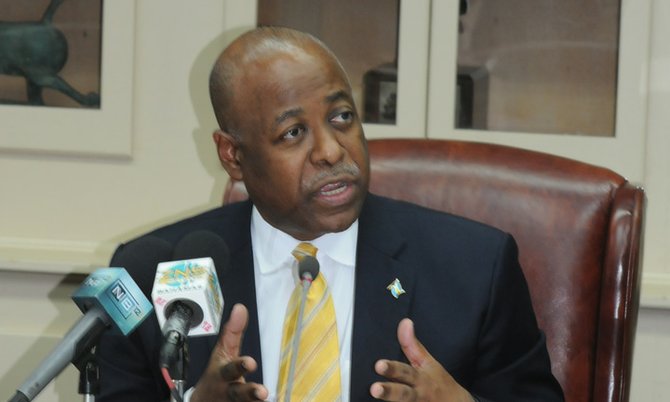 By KHRISNA VIRGIL
Tribune Staff Reporter
kvirgil@tribunemedia.net
OBIE Wilchcombe, West Grand Bahama and Bimini MP, has branded outspoken Fort Charlotte representative Dr Andre Rollins' ongoing controversial comments in the House of Assembly as "political immaturity" in need of "reconciliation" from not only constituents but from the Progressive Liberal Party's council.
Mr Wilchcombe told The Tribune yesterday that based on the former Gaming Board Chairman's dissenting views and defensive stance, it would appear that he has forgotten it was Prime Minister Perry Christie who gave him the opportunity to ascend to public office.
For his actions, both Mr Wilchcombe and PLP Chairman Bradley Roberts agreed that it was likely for party members to take the floor in an upcoming council meeting scheduled for either Thursday or next week to voice their concerns.
"Dr Rollins doesn't speak for everyone," Mr Wilchcombe said. "I think Dr Rollins must reconcile with his constituency. He then has to talk to the Progressive Liberal Party and the council when he has dissenting views. You have an obligation to them and what you should do is make sure they understand your sentiments, when they differ from the official party line.
"Right now he is still a member of the PLP and that is why he hasn't been severely ostracised. In our political maturity two wrongs don't make a right. A time will come when he will arrive at a point when he realises that this is not how you behave as a politician."
Dr Rollins told the NB12 television station on Friday that those who took exception to his vocal nature, one which he said echoed the sentiments of his constituents and citizens of the county, would simply just have to deal with it.
He added that if the PLP did not give him another nomination, then he would either choose not to run again, campaign as an independent candidate or opt to join another political party.
Asked if he was considering forming ties with another party, Dr Rollins said he was not thinking of doing so at this time but if placed in a situation where there was no alternative everyone would have to expect "that that is a possibility".
Dr Rollins has also forecast that the PLP will not win the 2017 general election. He said their handling of the numbers industry would be the reason for the loss.
To that, Mr Wilchcombe said Dr Rollins was "completely wrong".
He said: "We will win because we have sought to bring the country out of tremendous difficulty and put systems and paradigms in place that will have long lasting effects. We have certain difficulties – certainly crime is one of them – but like with everything else nothing happens overnight.
For several weeks, Dr Rollins has not only criticised Mr Christie's leadership of the PLP, but also the direction of the government and its decision to regularise the numbers industry. He said he would not support the proposed Gaming Bill.
He has also expressed strong views about certain sections of the Equality Bills and does not support the second Bill, regarding a Bahamian woman who marries a foreign man to secure for him the same access to Bahamian citizenship that a Bahamian man has always enjoyed under the Constitution in relation to his foreign wife, or the fourth, which will end discrimination based on sex.