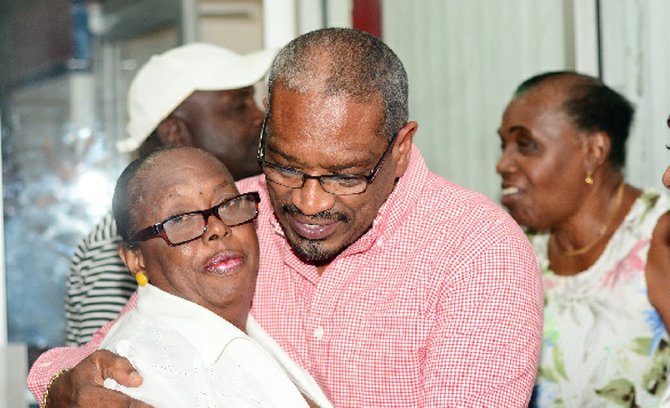 By NICO SCAVELLA
Tribune Staff Reporter
nscavella@tribunemedia.net
FORMER Deputy Prime Minister Frank Watson yesterday said that FNM Leader Dr Hubert Minnis "has an advantage" over Deputy Leader Loretta Butler-Turner in their battle for the party's top post.
Mr Watson, a senior member of the Free National Movement, said it would take "a mistake" on Dr Minnis' part for Mrs Butler-Turner to "catch him up."
Speaking with The Tribune yesterday, Mr Watson said Mrs Butler-Turner has "political acumen." However, he said, Dr Minnis has an advantage because he has held the post since 2012 and has had more time to campaign.
"I think Minnis has a chance of beating her," Mr Watson said. "The truth is Dr Minnis started his campaign a long time ago. I don't know if (Mrs Butler-Turner) is able to make up the ground. She's doing well, but I'm not sure. I think she has an uphill battle. "I think they're both working very hard, but right now it's going to take a mistake (from) Dr Minnis for Mrs Butler-Turner to catch him up. Right now it seems that he has the lead."
Last month Mrs Butler-Turner officially declared her intent to run against Dr Minnis for the party's top post.
She said although she was "grateful" for Dr Minnis' services, the government needed to be corralled by a "firm leader of the opposition who will keep both eyes on them inside and outside Parliament."
Her announcement came days after she told The Tribune she had not made a decision on whether she would run for the party's top post due to her "shock" at a snap convention called by Dr Minnis a week earlier.
Since then, Mrs Butler-Turner has ramped up her campaigning efforts, canvassing delegates in Grand Bahama, Abaco and throughout the Family Islands.
Most recently, Mrs Butler-Turner released a commercial urging party members to "make history" by electing her. She said if successful in her bid, she would be a confident leader who would bring new energy and ideas to the party.
In October, however, Dr Minnis said he was unfazed by Mrs Butler-Turner's public campaign. He said he was confident that he would return to the helm of the FNM.
Last week, he released his own commercial which defended his record as party chief. In that video he said it was he who held the "deflated" party together after its "greatest defeat" in the 2012 general election.
He added that the FNM is now "battle ready" as a result of his efforts. He said he should be re-elected because he has the "solutions" to rescue the "ailing" country.
Dr Minnis has also launched campaigns in New Providence and the Family Islands.
Yesterday Mr Watson said although "both candidates are campaigning hard," Dr Minnis maintains the lead due to being the incumbent leader.
"I think Dr Minnis has the advantage of holding the post," he said. "Mrs Butler-Turner is very good in terms of political acumen, but I really believe that his early start in campaigning is key."
"Because he started his campaign probably earlier than she did and more intensely than she did that's why she's probably chasing him."
The convention is set for November 21.
Mrs Butler-Turner is the only FNM to openly declare interest in the party's top post. Several other FNM's, such as Chairman Darron Cash and Deputy Chairman Dr Duane Sands, have announced their plans to run for the deputy leader's post.