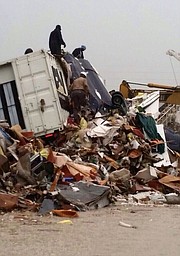 By DENISE MAYCOCK
Tribune Freeport Reporter
dmaycock@tribunemedia.net
DR MYLES Munroe, pastor of Bahamas Faith Ministries International, and his wife Ruth, were among the nine persons on board a Lear 36 executive jet that went down in a "gruesome" crash in bad weather in Grand Bahama on Sunday evening.
The plane, which left Nassau at 4.07pm, collided into a crane at the Grand Bahama Shipyard around 5.10pm and crashed in a nearby junk pile. All persons on board were killed instantly.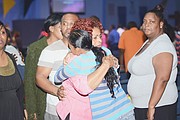 Although police have not released the identities of the victims, church officials have confirmed that Dr Richard Pinder, BFM's senior vice-president, was also on board.
Pastor Lavard Parks, his wife, Rudel Parks, both BFM youth ministers, and their young son Johannan were also on the plane, according to a statement from Mr Parks' public relations team.
Audio clip
PLANE CRASH EYE WITNESS (GRAPHIC CONTENT)
Unconfirmed reports state that Captain Stanley Thurston, along with a visitor from Africa, and another pilot were on board the ill fated plane.
It is believed severe weather conditions may have contributed to the crash.
According to reports from people at the scene, which were not confirmed by police, the plane "exploded in mid-air" after it hit the crane and then crashed.
Asst Commissioner of Police Emrick Seymour, officer in charge of the Grand Bahama District, said the aircraft went down into a recycled dumpsite at the shipyard.

"It is believed that all nine persons on board are dead," he said.
"We have begun the recovery process. We have a team of officers and shipyard workers onsite – it is a gruesome scene out there," ACP Seymour said.
A video of the crash site, which was circulated yesterday, showed one of the victims thrown from the plane with his skull apparently crushed.
At a press conference shortly after the crash, ACP Seymour said fuel was still present at the crash site and efforts were being made to stabilise the area so they could move in and recover the remains.
He said police could not release the identities of the victims until next of kin were identified. He said images of the crash and the victims' bodies which were being posted online were "irresponsible."
Dr Munroe and his party were heading to Freeport to attend the Global Leadership Forum, which he was to host in Grand Bahama today.
According to WSB-TV 2 in Atlanta, former Atlanta Mayor Andrew Young, a scheduled speaker at the event, did not get on the small plane because he was worried about flying in bad weather.
Mourners
A crowd gathered at the roundabout on the Warren Levarity Highway as the news of the tragedy and photos of the wreckage spread on social media. Minister of Tourism Obie Wilchcombe was one of many who flocked to the shipyard after learning the tragic news.
Those who had travelled to Grand Bahama for the conference were devastated after learning that Dr Munroe's plane had crashed. A woman fainted and collapsed in the lobby area of the convention centre at the Grand Lucayan resort and had to be given oxygen. She was then carried out on a stretcher by EMS personnel for medical treatment.
When The Tribune arrived, a number of persons had gathered in a state of visible disbelief and shock.
Dr Munroe's daughter and son, who were on Grand Bahama, were said to be devastated.
"This is a big blow," said Pastor Eddie Victor. "Dr Munroe is indeed a world leader, and persons from 60 different countries have come to attend his leadership conference.
"When the news broke that Dr Munroe's plane crashed, many persons were in a state of disbelief. But it was difficult to confirm because the plane was mangled," he said.
In spite of the tragedy, The Tribune has learned that conference leaders have decided to go on with the event which starts today.
The Department of Civil Aviation said a full investigation into the crash will begin today.