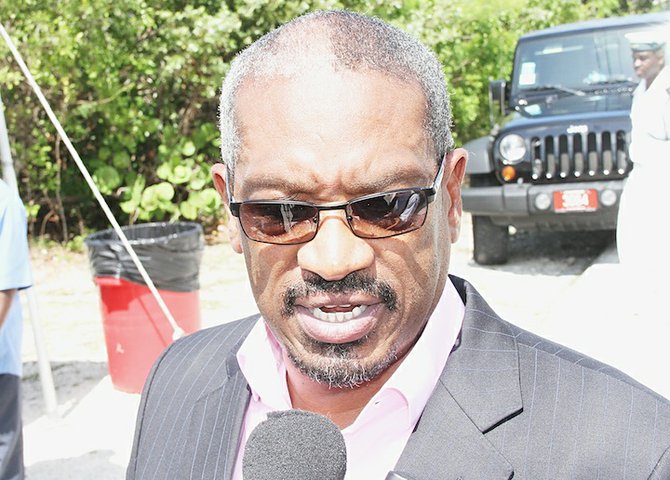 By KHRISNA VIRGIL
Tribune Staff Reporter
kvirgil@tribunemedia.net
OPPOSITION leader Dr Hubert Minnis says he would push legislation to the limit as prime minister to a maximum of two terms in office if he were elected to lead the country.
The FNM leader maintained yesterday that his declaration was not a swipe at former Prime Minister and FNM leader Hubert Ingraham who served from 1992 to 2002.
Mr Ingraham was re-elected for a third, non-consecutive term in 2007 and served until the FNM's defeat to the Progressive Liberal Party in 2012.
Dr Minnis said term limits on a prime minister will ensure that the country evolves with the best interests of Bahamians as a priority.
"It should only be two terms and then out after that," Dr Minnis said. "This has always been my position simply because everyone reaches a certain level when they would be maxed out, suffer from brain drain and become stagnant.
"If someone remains in office for let's say 20 years, they can only take you to a particular point. Yes, you might have advisors and persons on your team who know how certain things should be done, but the point is that occupying the office for long periods of time won't be effective. With that, you also see situations where people think that they own the country and are less inclined to work in the best interest of Bahamians.
"A maximum two terms in office would allow the generation of new ideas, new views and keep this country moving forward."
Dr Minnis praised Mr Ingraham for his impact on the country, saying that generations to come will benefit from the decisions made under his leadership.
"What Ingraham has done for this country, I don't think anyone could have done," Dr Minnis. "His legacy will forever be remembered in history.  He will go down in history as one of the best prime ministers. He changed the entire Bahamas. He freed Bahamians."
As for Prime Minister Perry Christie, Dr Minnis said he was unsure of the legacy the PLP leader will leave behind.
"I am still trying to figure out what his legacy is going to be. (The) only thing he has become known for is lateness and being unable to make hard decisions. I guess he will go down in history as a shuffler to Junkanoo music," Dr Minnis said.
Mr Christie first served as prime minister from 2002 to 2007. He was re-elected in 2012. Although Mr Christie has suggested he will not run for re-election, it is unclear if this will be his last term in office.
Sir Lynden Pindling was the first black premier of the Bahamas from 1967 to 1969 and was Prime Minister from 1969 to 1992.