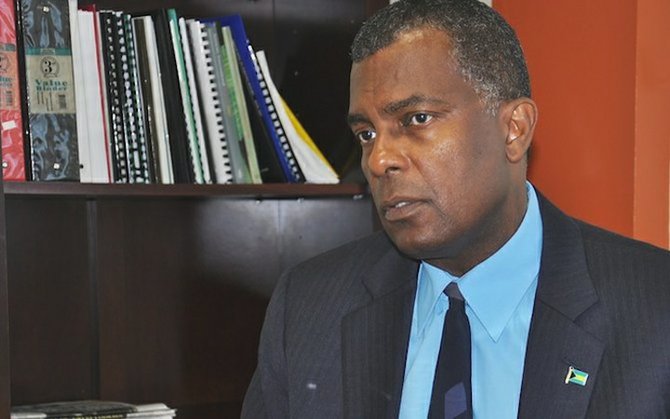 Audio clip
FRED MITCHELL ON MIDDLE EAST TRIP
By KHRISNA VIRGIL
Tribune Staff Reporter
kvirgil@tribunemedia.net
FOREIGN Affairs Minister Fred Mitchell says a recent trip to the Middle East has sparked new relationships which will assist in developing business and investments throughout the Bahamas.
Mr Mitchell travelled over the last two weeks to the United Arab Emirates (UAE) and Qatar in an attempt to forge ties and find money for the country.
As a result, the Bahamas offered to officials at the UAE and Qatar sound investments for their sovereign wealth funds, cooperation in tourism and investments in private sector projects, including attracting high net worth individuals to bank in the Bahamas.
Mr Mitchell said: "We settled diplomatic relations with Qatar. An Ambassador from that country came to the Bahamas and did extensive tours in economic areas of interest in Grand Bahama. There is a similar story with the United Arab Emirates whose Minister of Foreign Affairs chose the Bahamas as the only Caricom country which he visited on a hemispheric-wide tour over the past month.
"This is likely to mean the settling of the following agreements with these two countries:  an investment protection act, an air services agreement, a visa waiver agreement, a general cooperation agreement and double taxation agreement. There is a lot of work to be done if this is to be settled before the General Assembly at the United Nations in September. Our presence in consular or diplomatic form may be necessary to support what we plan to do."
Mr Mitchell pinpointed that countries in the Middle East are surplus capital countries as is China.
"The Bahamas and the Caricom region have a capital deficit. We can make this deficit up to aid our development either by soliciting donations or by seeking to attract investment. The Bahamas has chosen the latter."
The Minister announced last year that he would spend a full year abroad. That announcement was met with criticism from political pundits who suggested that during a time when the country experiences financial difficulties, Mr Mitchell should cut back on foreign expeditions.
Travelling with Mr Mitchell to Qatar was the Minister for Grand Bahama, Dr Michael Darville, and the President of the Grand Bahama Port Authority, Ian Rolle. They made presentations to the Qatar Investment Authority.
"I believe that with that presentation and those made in the United Arab Emirates, and with careful nurturing of the relationship, there will be tangible benefits for the Bahamas. We are dealing with two countries with impeccable reputations as friends of the West. We are doing this in concert with our traditional trading partners who have indicated no opposition to what we are doing and plan to do. Our Caricom neighbours are also involved in similar outreaches," he said.