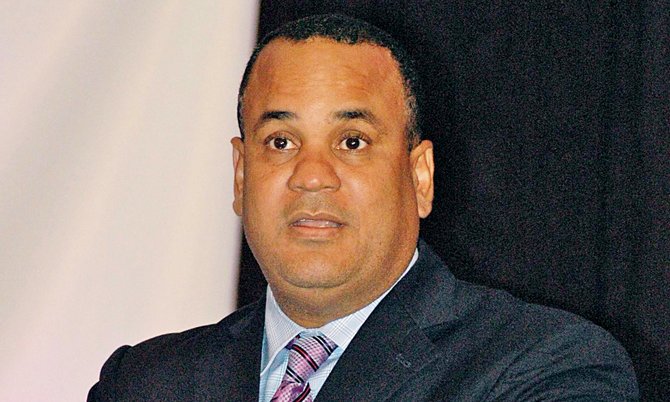 Reader poll
Yes, there should be a pay rise and a new Parliament building 2%
There should be a pay rise only 2%
There should be a new Parliament building only 2%
There should be a new Parliament building only, but not right now 15%
There should NOT be a pay rise OR new Parliament building 79%
173 total votes.
By RASHAD ROLLE
Tribune Staff Reporter
rrolle@tribunemedia.net
MEMBERS of Parliament have not put forward a motion to have their salaries raised, State Minister for Finance Michael Halkitis emphasised yesterday as he also added that in his view, "there's no way" a new House of Assembly building will be constructed this term.
His statements come a day after reports that a parliamentary select committee recommended that the salaries of MPs be reviewed and that a new Parliament be constructed this term drew fierce criticism from residents who said that given the country's current fiscal challenges, it is not prudent to make such recommendations.
Mr Halkitis said it has simply been recommended that raises for MPs be reviewed by an independent body, without interference from government officials. 
"There was no motion put forward for an increase in salaries for members of parliament," he said. "The suggestion as it relates to salaries was for any review to be referred to the committee that is headed by retired Justice Joseph Strachan, who had a committee reviewing the remuneration of judges and they're doing some further work now. So the suggestion was that while they're doing that, they could also look at MPs."
"What Mr Nottage (National Security Minister) said was that the committee suggested that the issue of parliamentary salaries be referred to the same committee looking at the salary for judges because in my opinion it would not be the ideal situation to have Members of Parliament saying okay, let's raise our salary to such an amount.
"No, the best way to do it if you consider reviewing the benefits of Members of Parliament is to refer it to a sort of independent committee who can then review the situation, benchmark it against other countries and then come back and recommend to the government that okay, we have reviewed it and this is what we recommend. Then it's up to the government to say okay, this is what we present to the Parliament."
Asked if he believes a raise for MPs is needed, Mr Halkitis said he supports a change, adding that all MPs currently subsidise the operations of their constituency office using their personal funds.
He said: "I don't want to be in a position where I'm talking about my own raise. Mr Nottage's committee did recognise, for example, that the constituency allowance be raised from $1,500 per month to $2,500 per month. Again there's some confusion as to what the constituency allowance is as opposed to the $50,000 allocated to MPs for minor works in their constituencies.
"$1,500 is given per month to each elected Member of Parliament to maintain their constituency office, to keep their office open. If you were to calculate, for example, on average you can pay in rent anywhere from $800 to $1,500, depending on the size. If you were to have an employee in there you have to pay the minimum wage for government which I think is $210. Most people pay their employee more so if you're paying an employee $250 a week, you're paying rent at $800, that's $1,100 before electricity, cable, phone, water. Keeping a water cooler in your place so when people come they can have water to drink, cleaning supplies, toiletries, so immediately every MP starts out by putting money into the running that is not adequate.
"What it leads to is different levels of service so depending on the means of the MP, one Member of Parliament may be able to support from his own personal resources a nice big office with two or three employees because you know he can support it. The person who is relying on the $1,500, that constituency gets a lower level of a constituency office.
"Ultimately it speaks to the quality of representation that the constituency would have. I support the change. Every single MP who has an office would tell you that they subside the operations of their office to at least $1,000 per month from their own resources. Some people can do it because of their personal resources, some cannot."
As for the House of Assembly building, Mr Halkitis said the country has outgrown its current one, though he added that it is unlikely a new building will be constructed this term despite the recommendation of the parliamentary select committee. 
"There's no way in my opinion you can get a new building in this term anyhow because you have to identify land, you have to do drawings and all of those things, construction. But I think it's just to sensitise the public that this is where your national business is being conducted," he said. "It's a national symbol. We need to address this issue at some point."
Addressing the press, he said: "I'm sure you and your colleagues would perhaps like to have better facilities for the media other than just the little bench we have in the corner. Maybe if you need to file your stories, a room where you can do it. Right now it's no way; you have to go and stand outside. Every Bahamian will probably tell you that we have probably outgrown the current facility.
"How do we address it? We can leave it but the building, something needs to be done. When do you do it, do you do it now, do you wait until the economy gets better, that's the question to be asked. But I think we shouldn't look at it within the context of, oh, these guys want to build a nice new building for themselves.
"It's the nation's Parliament and when you go to other countries' Parliament and you see theirs you might say we're supposed to be a leader in so many aspects and this is where our business is conducted."