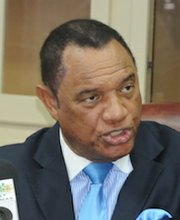 By AVA TURNQUEST
Tribune Staff Reporter
aturnquest@tribunemedia.net
THE PUBLIC Disclosures Commission has expressed concern over the widespread failure of officials to comply with legislation mandating the turnover of annual financial declarations, Prime Minister Perry Christie told the House of Assembly last night.
According to Mr Christie, the Public Disclosures Commission (PDC) reported that "a number" of present and former parliamentarians and senators, along with senior public officers, have failed to submit declarations as mandated in the Public Disclosures Act.
While he did not confirm whether or not he was compliant with the law, Mr Christie urged members of Parliament to prioritise submissions during his closing budget contribution in the House of Assembly.
It is unclear on whether there would be any penalties levelled for non-compliance. 
He added that the government may give future consideration on how the matter of public disclosures is handled in Britain and adopt some of those measures in a bid to reduce unnecessary public embarrassment for local politicians.
Mr Christie said: "I just want to be able to say that this is a requirement, that I will be causing those persons who have not yet disclosed to know that it is expected and to make every effort to submit their disclosures to the Disclosure Commission. It is an important requirement. 
"A few years ago the clerk of the House pointed out to me the disclosure provisions of the Parliament of the United Kingdom and it is worthy for us at some stage or the other to see in fact how they go about with their public disclosures, so as to minimise the extent to which there could be public embarrassment unnecessarily by provision in the law."
To date, 11 of 38 members of Parliament have confirmed to The Tribune that they filed all their annual disclosures.
At least nine government ministers have not filed their public disclosures for this year as mandated by law, according to their own admissions.
The Tribune has been unable to contact Fox Hill MP Fred Mitchell, Minister of Foreign Affairs, and Southern Shores MP Kenred Dorsett, Minister of Environment, as both men are reportedly out of the country on government business.
South Andros MP Picewell Forbes has also not been reached as yet.
In an article published by The Nassau Guardian earlier this week, Tall Pines MP Leslie Miller said that he had not yet filed his declarations.
Disclosures must be turned into the PDC by March each year.
According to the Public Disclosures Act, a summary of the declarations shall be published in a gazette and any person who does not comply with the law is liable to a fine not exceeding $10,000 or imprisonment of not more than two years.
Last night, Mr Christie said that he received a letter from the PDC on June 10.
Mr Christie said: "The laws of public disclosure requires the members of Parliament and senior officers by classification in the public service to make disclosures. At a certain stage, the law requires the Public Disclosures Commission to write to the Prime Minister and, I think, copy the leader of the opposition.
"I would have received a letter that there is difficulty with obtaining declarations for the year ending December 31, 2011 from public officers listed on the attached schedule. I won't read the schedule but members of the Public Disclosure Commission have noted the concern the number of senior public officers who have failed to submit their declarations as required under section 9 of the Act. 
"In a similar letter dated the same day members of the disclosure commission have noted their concern the number of parliamentarians and senators, former parliamentarians and former senators, who have failed to submit declarations as required under section 8.1 B of the Public Disclosure Act."
In an interview with The Tribune last week, Opposition leader Dr Hubert Minnis said he had yet to see a single report from the PDC this term. At a public demonstration over Freedom of Information last week, Dr Minnis said that anyone who had not filed their declarations should be jailed.