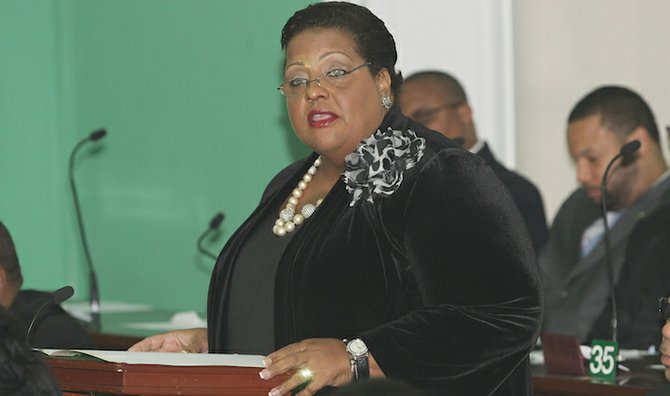 By AVA TURNQUEST
Tribune Staff Reporter
aturnquest@tribunemedia.net
FNM Deputy Leader Loretta Butler-Turner yesterday admitted that she has not filed her annual financial disclosures since 2012.
The Long Island MP's admission came as FNM Leader Dr Hubert Minnis renewed calls for the government to publish the financial disclosures of parliamentarians.
Dr Minnis told The Tribune that he had yet to see a single report from the Public Disclosure Commission (PDC) this term. Dr Minnis, as leader of the Opposition, is entitled to the PDC's report before it is publicly gazetted.
In an interview with The Tribune last month, Dr Minnis confirmed that he was up to date with his disclosures. At that time, he said, he instructed his FNM parliamentarians to do the same, but could not confirm whether they had complied.
It is unclear how many FNM and PLP parliamentarians have submitted their annual disclosures.
Yesterday, East Grand Bahama MP Peter Turnquest confirmed that he was up to date on his disclosures, which must be turned into the PDC by March each year.
Yesterday, Mrs Butler Turner said: "I can tell you, I am not (up to date), I try to be very honest and the truth is I am not. I'll make it a priority.
"I have no excuse except not making it a priority," she said. "I have not disclosed since 2012. I guess, like everything else, if there is no enforcement or repercussions we just tend to let it slide. 
She added: "I've been pretty adamant that I don't really have anything to disclose, but that's not the right attitude. I should reprimand myself about it – about two months ago the committee sent me the papers to file."
Members of Parliament and Senators are required by law to file annual disclosures of their assets and liabilities.
According to the Public Disclosures Act, a summary of the declarations shall be published in a gazette and any person who does not comply with the law is liable to a fine not exceeding $10,000 or imprisonment of not more than two years.
If a Parliamentarian deliberately does not disclose property owned in the Bahamas, the land can be seized and forfeited to the government.
When contacted on the issue yesterday, Dr Minnis said the public has the right to see the finances of politicians.

"I haven't gotten any report, not one," he said, when asked if he had received a report from the PDC on parliamentarian's disclosures.
"I think we're law-abiding citizens and as legislators we should follow the law. If Cabinet has gotten a report, it should be published. Release the information to the public."
When contacted for comment last month, Allan Benjamin, chairman of the Public Disclosure Commission (PDC), would not say if members of Parliament and senators had complied with the Public Disclosure Act.
Mr Benjamin said he could not give details on the issue, adding that the PDC has done "what we are supposed to do" and had forwarded information to Cabinet.
Last month, State Minister for Finance Michael Halkitis said he was unaware of the status of the disclosures and could not say if they had been presented to Cabinet.
The issue of MPs' incomes has come under scrutiny after a House of Assembly select committee recommended that the salaries of members of Parliament be reviewed, with a view to increase pay and allowances.
In 2010, former Prime Minister Hubert Ingraham admitted that he had not complied with the Public Disclosures Act for several years. 
At the time, he told The Nassau Guardian that he had not filed since the "day before the election in 2007". 
He then pledged to get up to date with his disclosures.