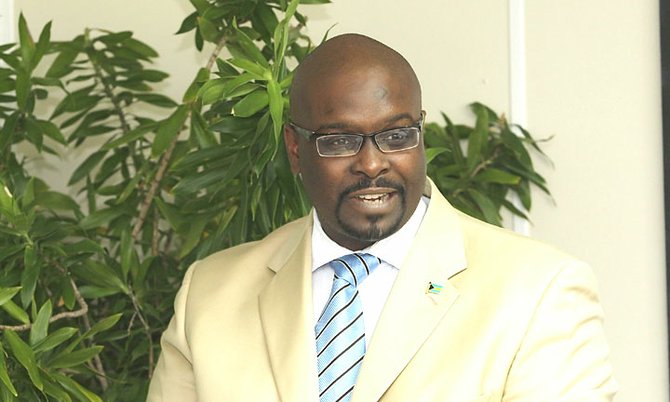 By KHRISNA VIRGIL
Tribune Staff Reporter
kvirgil@tribunemedia.net
THREE hundred letters of conveyance issued to persons who applied for low cost government residences between 2010 to 2012 are now being regarded as null and void, Housing Minister Kenred Dorsett revealed yesterday.
Mr Dorsett claimed in the House of Assembly that the previous Ingraham administration, in the lead up to the May 2012 general election, issued the letters confirming housing assignments in lots that were not granted prior subdivision approval.
According to the Minister, the clause was enacted in the Planning and Subdivision Act of 2010 passed by the previous government. 
Mr Dorsett said that as the government begins construction of additional homes in existing subdivisions, persons who received conveyance and mortgage confirmations prior to the Christie government taking office should immediately visit the Ministry of Housing to have new letters issued.
He said: "Section 44, Mr Speaker, then says (that) upon application by the land owner, the committee may consider an application for subdivision approval made under Section 36 for any subdivision or land for more than two new lots from an existing lot.
"Just for clarity. Make sure that everyone knows what we are talking about. In Section 49 where it says sale of land in new subdivision, no lots shall be sold or agreed to be sold, conveyed or agreed to be conveyed, demised or agreed to be demised in any subdivision that has not received subdivision approval by a committee in accordance with the provision of this act.
"It binds the crown. So yeah, they built a bunch of homes illegally. They did not even comply with their act. You brought this to the House. You debated this. You advanced this and did not even comply.
"Take note of Section 62 of the Act because it says any conveyance made after the act comes into affect regarding lots not granted prior subdivision approval shall be null and void, null. So I say to you if that happened to you, come in to my ministry. We will execute the confirmatory conveyances and the confirmatory mortgages to regularise your title."
He added that any breaches of the provision are liable to a fine of $20,000 or a year imprisonment.
Moving forward, Mr Dorsett said that having already received the first $2.5 million in funds from the National Insurance Board - the result of a Memorandum of Understanding - construction of homes will begin at Strachan's Hill Estates, near Carmichael Road.
"I know that many of our citizens are happy to hear this news as it will provide jobs for those who work in the construction industry. (It) will provide much needed inventory for those Bahamians who are qualified and patiently waiting on the construction programme to begin. We intend to build about 120 homes with the $10 million in funding. That is all that (it) can make provisions for."
The previous government began building 566 homes, but only completed 450 of them when they were voted out of office, Mr Dorsett said.