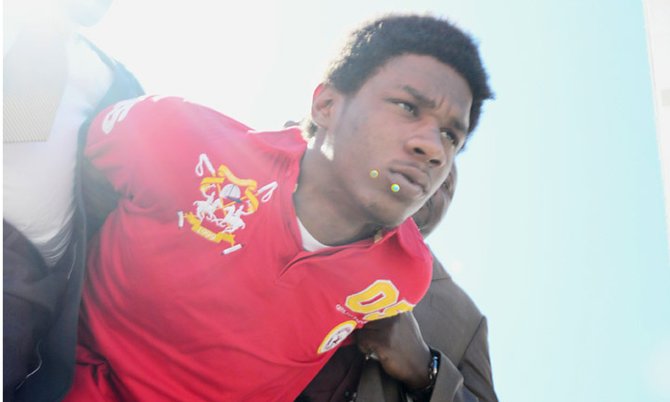 By LAMECH JOHNSON
Tribune Staff Reporter
ljohnson@tribunemedia.net
A MAN on police's most wanted list for more than six months was the final of five suspects arraigned in Magistrates Court in connection with the murder of American tourist Kyle Bruner.
Leo Bethel, 19, of Balls Alley, who until last week was detained in Florida, appeared before Chief Magistrate
Joyanne Ferguson-Pratt yesterday facing two counts each of murder and armed robbery.
Bethel however, made allegations of police brutality and claimed that he was forced to participate in an identification parade he did not agree to.
"Mr Bethel, while in custody at the Central Detective Unit, was tortured physically" attorney Dr Glendon Rolle said, adding that an officer in the prescient of the court complex was named by Bethel as one of a number of officers who beat him about the face and body.
Bethel faces two counts of murder and two counts of armed robbery that he was not required to enter a plea to.
Concerning the first murder charge, it is claimed that between April 8-15, 2013, he intentionally and by means of unlawful harm, caused the death of Terrell Knowles who was shot on April 8 and died of his injuries in Princess Margaret Hospital on the April 15.
As for the remaining charges of murder and two counts of armed robbery, Bethel is also alleged to have murdered Kyle Bruner on May 12, 2013.
He is also claimed to have accosted two women while armed with a firearm, robbing one of $150 cash and her $3,000 handbag and the other female of cash, a handbag and an iPhone.
Bruner, 34, was trying to help the women being mugged by two armed men that early Sunday morning when he was shot in the neck.
The American sailor had been working as first mate on the Liberty Chipper sailboat that was passing through the Bahamas and was docked at Nassau at the time of the shooting.
Five days following the incident, four men were arraigned in connection with the incident on the same charges that Bethl now faces.
Like Bethel, Twenty-year-old Craig Johnson, of Clarke's Alley; Anton Bastian, 19, of Abraham Street; Jamaal Dorfevil, 28, of St James Road and Marcellus Williams, 21, of Culmer's Alley, were not required to enter a plea to the charges due to their nature.
Their case has been fast-tracked to the Supreme Court for trial through service of a Voluntary Bill of Indictment.
Only Bethel now awaits service of said document due to being arraigned nine months later. His VBI presentation is scheduled for May 14.
Before being remanded to Her Majesty's Prison to await trial, Chief Magistrate Ferguson-Pratt made note of the assertions made by the defendant and ordered that he be seen by a physician upon his arrival to Fox Hill Prison.