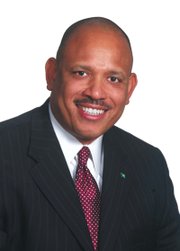 By RASHAD ROLLE
Tribune Staff Reporter
rrolle@tribunemedia.net
FREE National Movement insiders yesterday dismissed Dr Duane Sands as a failed candidate for government who lost to "an American that barely had status in the Bahamas."
Their comments came in reaction to Dr Sands' revelation on the Jeff Lloyd talk show on Wednesday that he is considering challenging FNM leader Dr Hubert Minnis for party leadership at its next convention.
Dr Sands said the FNM has not "gained traction that we ought to have," particularly in view of the current government's "missteps."
But the FNM insiders – who wished to remain anonymous – noted that Dr Sands lost in both the Elizabeth constituency to current MP Ryan Pinder during the May 2012 general election and in the by-election of 2010, the only election races in which he has participated.
One source said: "We ought to have been winning that (by-election) seat by hundreds. How can you then put yourself up as leader when you lost after the government threw its entire set of resources around you?"
For his part, FNM leader Dr Hubert Minnis countered Dr Sands' statements about the FNM not gaining traction with Bahamians by saying the FNM has had "very positive traction with the Bahamian people."
He added that Bahamian party politics is democratic and so those who wish to challenge him for leadership of the FNM are free to do so.
Amid talks about former Prime Minister Hubert Ingraham considering a return to politics and Dr Sands' own confession that he is considering running for party leader, FNM chairman Darron Cash knocked notions of tension about leadership in the FNM.
 "I don't see it as division," he said. "I think as a vibrant political party that is well known for robust leadership and debate, in the period before we become government, the FNM is used to strong personalities seeking to break through the clutter."
"Several days ago when asked about running no one had indicated any interest or indicated they were thinking about running. I am glad Dr Sands has stated his interest. In the future, members and leaders of the party will be looking forward to hearing his views in terms of what he can do differently from the current leader. That would be a meaningful conversation."
"Anybody else who is interested in being party leader ought to come forward and say so," said Mr Cash.
He added that he doesn't "expect there to be quite a number of other people coming forward."
As for Dr Sands' criticism that the FNM has not gained traction with Bahamians, he said: "One would expect that anybody who projects himself as the future leader would have to differentiate him or herself form the present team by saying the present team is not up to standard or up to mark. We expect that kind of differentiation. But it's still a function of an individual's opinions."