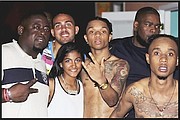 By FARAH 
Tribune Features Writer
jgibson@tribunemedia.net
THE VENDETTA Group ended their year on a high note by opening for America's hottest new hip hop duo during the No Flex Zone concert at Mario's Bowling Alley and Entertainment Palace last week. Headlining the event were Rae Sremmurd, two young American rappers who are known for hits like "No Flex Zone", "No Type" and many more. They, along with the numerous local acts, rocked the under 18 crowd at the Entertainment Palace.
The night started off with a selection of Nassau's top deejays and selectors, including Selector Fawteen, DJ Blaze and DJ Overdosa who kept the crowd hyped. Later, other acts including the Vendetta Group, which consists of Sasha Dunn, Angel K and Clar, hit the stage.
The team hit the stage like a freight train, rocking the crowd with Clar's youth anthem "Stand for Something". Later, 242 artists Rap Monster and Twin Laden kicked the show up another notch with their smooth and vibrant performance. 
"As the crowd reached a fever pitch the announcers unleashed Swae Lee and Slim Jimmy on the stage. Instantly the pair known as Rae Sremmurd went from zero to 1,000, taking the hyped crowd with them," Sasha Dunn said.
"The boys were bouncing uncontrollably all over stage jumping to the top of speakers getting 'turnt up'. In no time the pair were barebacked, getting the crowd on the same level as they were. Overall the night was a major success for the fans, promoters and artists alike."
The No Flex Zone concert was the climax of a great year for the Vendetta Group, who are excited and eagerly anticipate what the year 2015 will bring. 
"The year 2014 will go down for us as the foundation to the greatness to come. This year the team did a great amount of local and international shows, allowing us more and more opportunity hone our skills," Sasha told In Ya Ear.
As the group has a number of multi-talented members, Sasha said their focus over the past few months has gone beyond music and creating a steady fan base locally. 
"We have been focusing diligently on self-development as a team with constant practicing sessions for different aspects of talents such as acting, singing, rapping and overall performance. We also have been focusing on our radio spins and getting the music to the people," he said.  
As for 2015, Sasha said "bigger and better" is the group's mantra and they are looking forward to surpassing the successes they have had this year. 
"In the new year we plan to do everything bigger and better. We are trying to do more shows nationally and internationally; get the team more involved in films and multimedia ventures. We intend to solidify all of the brands that are associated with #TeamVG and making them all household names. In 2015, the empire will take flight," he said.