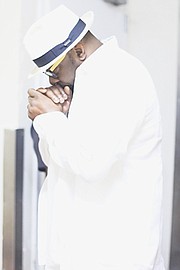 By ALESHA CADET
Tribune Features Reporter
acadet@tribunemedia.net
GRAND BAHAMA party-goers were treated to a post-Christmas gift last Saturday as '80s R&B superstar Bobby Brown headlined the first ever Jingle Ball concert.
The "Candy Girl" and "My Prerogative" singer brought the '80s and '90s back for a crowd of locals and tourists at the Grand Lucayan ballroom.
The event was hosted by new promotion company GreatMinds and featured the Bahamas' very own Visage band which took to the stage to perform some of their hit songs like "Hold Ya Head" and "Still Need a Man".
"It was definitely a great turnout," said Leteasha Lord, event coordinator. "We had a room full of people maybe 30 years old and over. The overall goal of this event was to firstly bring a sophisticated, safe, mature but fun event for the adults. Secondly, we wanted to provide a safe and exciting event for our tourists to enjoy while they were in the Bahamas for the holidays, and lastly we wanted to achieve a top class event as our launch to the public as GreatMinds Bahamas."
Bobby Brown rose to fame in the '80s as a part of the group New Edition and experienced continued success as a solo artist, with his second album producing five top 10 hits and selling 12 million copies worldwide, making it the top selling album of 1989.
While Brown entertained the more mature crowd, Visage was there to attract a wide variety of people, as they are not just famous in the Bahamas, but internationally as well, having performed at Miami Carnival in 1998, 2002 and 2003 and Trinidad Carnival in 2002 and 2003.
"There were a number of artists we could have chosen, but we wanted someone who would complement Visage. There are a lot of throwbacks from the '80s and '90s who perform slow music, but we wanted something high energy, something upbeat, something that people can relate to. We did not want to go from the energy Visage would bring and move on to a very low, mellow artist who is just going to perform love tunes. So we were looking for someone who would fit the event," said Leteasha.
She said the feedback received from guests at the event was very positive.
"Great event", "Top class event", "Can't wait the next event", "The best grown folk party since Byron Lee and the Dragonears concert" – were just some of the comments made by party-goers.
Sharing a message for Visage, Lateasha said: "Visage, this being one of your first events, you should really be proud of yourselves, really excellent job, congratulations."
Leteasha also said they were extremely satisfied with what Bobby Brown brought to the stage.
"We were ecstatic to see that Bobby was still able to do those old moves from the '80s. His vocals were still on point and he totally rocked the crowd with a local live band, The Apple Elliott Band," she said.
"He sang, 'Don't Be Cruel', 'My Prerogative', 'Tenderoni', and about four other songs. He was very engaging with the audience, he had them request their favourite Bobby Brown hits for him to sing; that was amazing."
When it came to Visage, Leteasha said the audience went wild during the band's performance. "They performed for maybe an hour and a half. Grand Bahama loves Visage; they were great," she said.
"We want to bring more international and local collaborations to Grand Bahama. Our aim is to continue to bring top class productions to our island that the grown and sexy and our visiting tourists would enjoy. GreatMinds Bahamas is a production team for corporate events, socials, weddings, concerts, parties etc. There are big plans in the future for GreatMinds Bahamas; we want to be a part of making Grand Bahama once again 'the Magic City'."