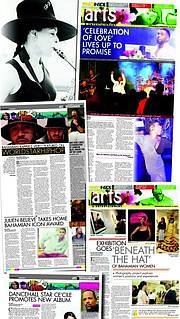 By JEFFARAH GIBSON
AND ALESHA CADET
Tribune Features Writers
IT was a vibrant year for the world of arts and entertainment in the Bahamas, and the fun continues tonight with the numerous New Year's Eve activities that will close out the entertainment calendar of 2014.
This year saw many local and international acts shine on stage, saw art shows present thought-provoking work and local designers outdoing themselves at fashion events by creating some of the most visually striking collections these islands have seen. 
While there were numerous exciting events that took place this year, here are some of The Tribune's highlights from the 2014 entertainment scene: 
Celebration of Love 
The second edition of "Celebration of Love" was one of the first concerts to kick-start 2014. 
The event, which was presented by Fresh Entertainment, took place on February 22 at the Seaside Pavilion on Arawak Cay. 
Though the concert did not garner as large a crowd as the inaugural event which featured R Kelly in 2013, the night was still deemed a great success.
The night ended with Grammy Award winner Fantasia Barrino in tears as she blessed the Bahamas, R&B singer Johnny Gill handing out roses to audience members and singer Ginuwine jumping into the stands and slow dancing with a concert-goer. 
But one of the best things to come out of the event happened after the concert. Rashad Bowe, an 18-year-old autistic Bahamian, the opportunity to meet his American Idol. 
Relentless efforts by his father, Yuri Bowe, and mother, Raynell Bowe, to reach out to Fantasia before she left the country proved fruitful. Randy Rolle, Consul General of the Bahamas in Atlanta, along with the promotion team at Fresh Entertainment, granted the Bowe family's request and made arrangements for Rashad to meet Fantasia before she boarded her flight on February 24.
In the VIP Lounge, Fantasia embraced her number one fan from the Bahamas and he sang Fantasia's hit song "I Believe". 
The meeting was an emotional one for Fantasia. She cried and said she was impressed that Rashad sang every line of her song verbatim, although he could neither read or write and had a speech impediment. 
Beneath The Hat Exhibition 
While there were numerous intriguing arts shows this year, "Beneath The Hat" was a particularly special one.  
The exhibition, which opened on International Women's Day (March 8) at the Central Bank Art Gallery, stood out for many reasons, but especially because it celebrated women.  
The exhibition told an ongoing story of the many hats women wear, their myriad passions and lives. It was an exploration of the changing tides and times of Bahamian culture – an exploration in which historical, religious, fashion and practical day-to-day moments were celebrated through the metaphor of hats.
It featured 18 portraits and accompanying profiles of Bahamian women who were all from different backgrounds.
'Beneath the Hat' was a project by photographer Lyndah Wells, artist Chantal Bethel and writer Laurie Tuchel. It was held under the patronage of Bernadette Christie, wife of Prime Minister Perry Christie.
Fashion 4 Foundation
The saying that there is always sunshine after the rain definitely applied to the presentation of Fashion 4 Foundation. The pouring rain, stormy winds and a ruined venue could not stop the dynamic duo of Shelby McPhee and Joe Stubbs who were determined to come out on top with their fashion showcase to raise money for the Ranfurly Homes for Children.
Their plans to host the first Fashion 4 Foundation fundraiser at Ranfurly were initially thwarted on August 2 as inclement weather destroyed the decorations that had transformed the home's grounds into a high fashion venue. With just hours to go before show time, organisers debated whether to postpone the fundraiser or find another venue. The event's producers eventually decided the show must go on, opting to host the event next door at the Dundas' new Black Box Theatre on Mackey Street.
Another unexpected decision organisers made on that night was hosting the show twice, at 8pm and again 10pm, to accommodate guests who had bought pre-sold tickets but did not get a chance to see the first show due to space limitations.
At the end of it all the show sold out and $5,000 was donated to the Ranfurly Homes for Children. 
Once Upon a Prom
A Cinderella dream came true for prom girls as the The Guest List hosted its first ever prom expo and fashion show in March.
Rhodesia Johnson, a student at CV Bethel High School, walked away with the ultimate prom fairy tale package after receiving the highest number of votes in the competition.
The 18-year-old won her prom gown, hairstyle, makeup, nails, and basically everything she would need for prom, including photography.
But it was runner-up Delshama McKenzie who touched the hearts of the organisers when she broke down in tears after losing. Sponsors of the show, hairstylists, nail technicians and the co-host, Kedar Clarke, decided to step up and offer their services to Delshama free of charge for her dream prom.
"It was almost like it tied in to theme where the fairy godmother came in and took over. I am happy for the both of them because you only see these things on television. Just to see it on stage in our own little town is amazing," said Aquelle Tuletta of The Guest List boutique.
Bahamian Rapper's Video Featured On World Star Hip Hop
Travis Bowe's music video for "Oh Lord" became an internet sensation in July, making it as far as to be featured on the international urban entertainment website WorldStarHipHop (WSHH).
The rapper said he hopes this achievement opens doors for many other Bahamian artists to get the same response and support. WSHH is considered the #1 urban outlet website responsible for breaking the latest premiere music videos and exclusive artist content. Created in 2005, the site averages 1.1 million unique visitors a day.
Travis said the inspiration for "Oh Lord" came from sitting down every day realising his talent and knowing that he can be much more.
" 'Oh Lord' is me giving you everything that Travis feels, wants, knows and needs, but at the same time being an artist that is taking control of his own success. If you are not going to give me a shot I will take it anyway," he said. "The message that I try to show is that everybody goes through struggles and wants the same things for themselves or their family, but you have to take control and go get it."
He said the music video portrays honesty, as he is not trying to sell viewers something he is not. Travis said he is a big fan of rap videos from the 90s where the music videos portrayed exactly what the song was about.
Dancehall Star Ce'Cile's exclusive Tribune interview
Caribbean dancehall star Ce'Cile is no stranger to the Bahamas and in September she sat down with Tribune Arts and Entertainment to discuss her hotly anticipated new album.
From Nassau and Grand Bahama to the Family Islands like Bimini, Eleuthera and Abaco, the singer has brought her hit songs like "Hot Like We", "When You're Gone", "Give It To Me" and "I'm Waiting" to Bahamian audiences over the years.
"The album is really a deeper album than I have done before," the Ce'Cile said, "you will hear the kind of things that I have got to do finally on this album. It is a more rounded and it not only showcases my vocal range and everything that I don't get to do on a dancehall riddim, it showcases my rising skills. This album is for all territories, everywhere my fans are."
The new album, she said, is a celebration of her success of being in the business for all these years and still being current, writing and rocking her fans all around the globe.
Ce'Cile encouraged Bahamian artists to never stop working and to keep pursuing their dreams.
"I have done a few collabs with Bahamian artists and there is a lot of talent there. Your big break is always around the corner. If music is what you love, it is what you will be doing anyway, so be smart about it and continue to do what you love. Big up to all of the fans that I have in the Bahamas because I have a few die-hard fans there," she said.