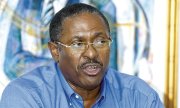 By RASHAD ROLLE
Tribune Staff Reporter
rrolle@tribunemedia.net
THE position of Fort Charlotte MP Dr Andre Rollins should go through a "cooling off period" before decisions are made about his place in the party, PLP Chairman Bradley Roberts said yesterday.
His statement to The Tribune followed Prime Minister Perry Christie's announcement on Monday that Dr Rollins had resigned as party whip because he could not support the constitutional amendment bills being debated in Parliament.
Mr Roberts said he doubts Dr Rollins will either be asked or forced to leave the PLP and said his adversarial stance against several party members does not expose deep friction within the party.
During debate in the House on Monday, Dr Rollins got into a heated row with fellow PLP MP Jerome Fitzgerald. Outside the House, he defended himself from what he called a personal attack by Mr Fitzgerald against him. Last week in the House, Dr Rollins verbally sparred with PLP MP for South Eleuthera Damian Gomez over the constitutional amendment bills.
During that session of the House, Dr Rollins also suggested that senior members of the PLP try to politically annihilate those who are not publicly towing the party line. He suggested that the "new generation PLPs" may have been "tokens" to win the 2012 general election, but the party now wants them to conceal their true beliefs if they differ from PLP rhetoric.
He also revealed last week that he was prepared to resign as PLP whip over his concerns over the constitutional amendment bills.
FNM Leader Dr Hubert Minnis declined to comment on tensions within the PLP yesterday. However, he said that the FNM remains focused on advancing its own agenda: proving that it would govern the country better than the current administration.
Asked if the FNM has been approached about bringing Dr Rollins into its party, Dr Minnis said he would never discuss such an issue in public or with the media.
On Monday, Dr Rollins had also denied rumours that he had plans to join the FNM because of his adversarial stance towards his own party members in the House.