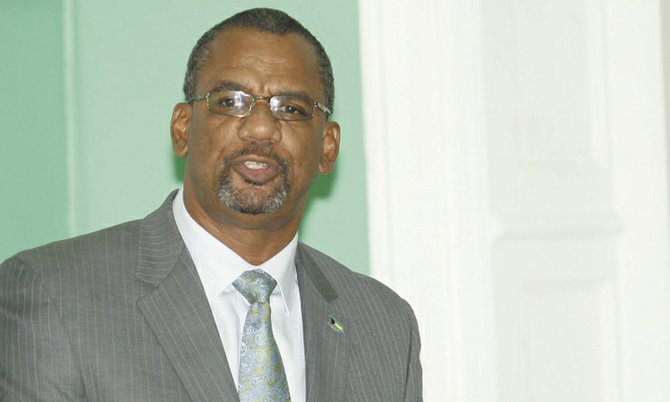 By KHRISNA VIRGIL
Tribune Staff Reporter
kvirgil@tribunemedia.net
EDUCATION Minister Jerome Fitzgerald fired back at his own party's backbench MPs yesterday saying he wants nothing to do with their "new generation" way of thinking as expressed during the House of Assembly debate on the four Constitution Amendment Bills.
Mr Fitzgerald said any MP who votes against the bills would be on the "wrong side of history" adding that it would make it hard to see how "that individual would ever be able to run for elected office in this country again."
His criticism led to a heated row in the House of Assembly, causing Speaker Dr Kendal Major to stand, shouting over both Mr Fitzgerald and Fort Charlotte MP Dr Andre Rollins who were arguing and hurling insults at each other.
During a defensive rebuttal, Dr Rollins said he took exception to Mr Fitzgerald's remarks which he called "intellectually dishonest."
The incident marks the second time in less than a week in which Dr Rollins has clashed with senior PLPs in the House because of his opinion on the proposed amendment bills.
Mr Fitzgerald said: "Mr Speaker, I listened to some of the arguments by those who propose to be new generation. I listen to them very carefully. I can tell you if they are thinking the way they espouse and it is in anyway connected with new generation thinking, I don't want anything to do with that. Nothing to do with it. I don't want to connect myself with that. I don't want to be associated with that kind of thinking because it is not relevant in this day and age.
"I don't know what qualifies you to be a new generation thinker. I know that being opposed to equality for women and men under our constitution and under our laws is not a new generation thinking."
"Politically we should be united," he added. "The country needs us to show a clear message on this. There may be a lone ranger or two and that is just what they will be, a lone ranger or two that will vote against these bills. But should that happen, I don't see how that person or that individual will ever be able to run for elected office in this country again. I just don't see it."
Last week, Dr Rollins and Marco City MP Greg Moss both broke party lines by publicly voicing their discontent with the proposed bills and verbally sparring with senior members of their party over their differences.
Both men have expressed concerns over bills two and four. PLP MP for Bamboo Town Renward Wells also said last week that he had issues with the fourth bill, as it was originally written.
Last night, Prime Minister Perry Christie announced that Dr Rollins resigned as party whip, due to his opposition to the bills.