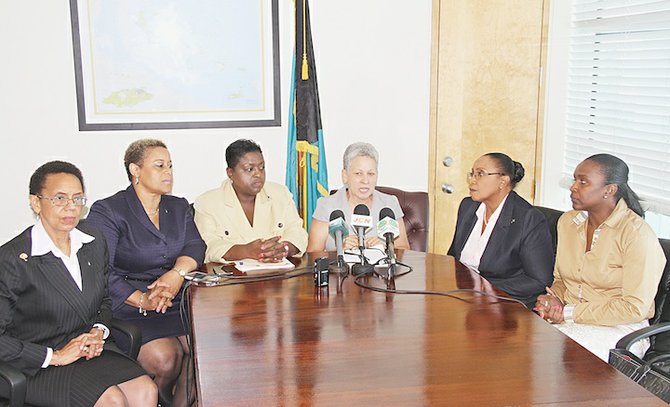 By AVA TURNQUEST
Tribune Chief Reporter
aturnquest@tribunemedia.net
FEMALE parliamentarians yesterday urged Bahamians not to be distracted by misinformation from politicians and political pundits over the constitutional referendum and to support the proposed changes to the Constitution.
Minister of Transport and Aviation Glenys Hanna-Martin said that political rejection of gender equality has the potential to promote or encourage negative social behaviour towards women. She underscored the critical need to redirect discourse over the proposed amendments following criticism of some of the bills by members of the opposition, as well as her own party.
"If you send a message out in your society that women are not equal to men, that they are less equal, do we wonder how that may lead to other types of behaviours towards women that are in fact social problems in our country," she said at a press conference at the Ministry of Transport.
"Part of the reason why we're here is because of some of the views we're hearing out of the Parliament on both sides, that is why we've come together as women in a bipartisan effort. It would look a bit peculiar if we sit there with a vested interest as women in the matter and sit in the house of power and not be able to come forward and clarify what we think are the critical issues.
"These are not complex issues, they are about equalising our rights in the constitution," she added.
She referred to the fear many have that bill four of the constitutional amendments, which will make it unconstitutional to discriminate against someone based on sex, will lead to gay marriage.
"The word sex has been in our constitution since 1964, it was never an issue then, it didn't mean same sex marriage then," she said.
"When we say equality we're not saying we're the same We're saying we're entitled to the same rights, protections, and privileges, and anything that citizens can have in this country, we're entitled to it.
Mrs Hanna-Martin, chair of the Bahamas branch of Commonwealth Women Parliamentarians, announced the launch of a bipartisan public campaign to promote informed discussion on the importance of removing all forms of discrimination against women.
She was joined by Attorney General and Senator Allyson Maynard-Gibson, Senator Cheryl Bazard, and MPs Melanie Griffin, Hope Strachan, and Cleola Hamilton – all of whom are descendants of influential women in the suffragette movement.
Mrs Griffin, Minister of Social Services, affirmed that existing discrimination as it related to citizenship exposed both children and adults to issues of identity, exclusion and self-esteem.
Debate this week on the four bills to amend the Constitution became contentious with several parliamentarians, including Opposition Leader Hubert Minnis, stating that they would not support select bills unless further changes were made.
Despite repeated assurances from the government that the fourth bill will not lead to gay marriage, PLP MPs Andre Rollins, Greg Moss, and Renward Wells told members they could not support the bill for this reason.
The second bill, which would allow the foreign spouse of a Bahamian women to become eligible for citizenship, was also contested on the grounds that citizenship should not be automatic.
Last week Paul Maynard, Bahamas Electrical Workers Union president, came out publicly against bill two stating that he did not trust his own daughters or granddaughters "to do the right thing" as it related to passing citizenship on to a potential foreign spouse.
Yesterday, Mrs Maynard Gibson fired back at her cousin, who is also the grandson of suffragette Georgiana Kathleen Symonette.
She pointed out that as a single parent Ms Symonette reared four children, one of whom went on to become the Deputy Prime Minister, Sir Clement Maynard.
"Paul Maynard would never sit down next to his female cousins and say that," she said. "In all seriousness, I'm not smiling about that."
"Consider the subliminal message that women are not able to make decisions that affect them in their own interest, or in the interest of society. The majority of our households are single mother households, so the evidence is very clear that women can and do make sound decisions.
She added: "Look at the record, the facts of who is doing best in elementary school and high schools, girls. Look at our universities, College of the Bahamas and universities all over the world, who is excelling? Women.
"So you are going to tell me Paul Maynard or anybody else who happens to have the same view that women don't have anything between their two ears when they just want to make a sound decision that impact their lives positively, and it impacts the community in which they live positively?"
Mrs Maynard-Gibson explained that the law mandates that a foreign spouse must apply for a spousal permit for five years, and must be living with their spouse during that period in a bid to prevent against marriages of convenience.
Mrs Maynard-Gibson charged that the inclusion of the word "sex" in Article 26 of the Constitution would not engender same sex marriage, and pointed to the savings clause embedded in the constitution that protects the Marriage Act.
She referenced Privy Council cases that ruled sex for the purpose of marriage was determined by the chromosomal composition of a person at birth, whether they are male or female.
She said: "Article 15 has the word sex, and what that does is state the principle that applies to the fundamental rights and freedoms. When you look at (Article 26) it doesn't say the word sex so if you want to make it clear that we as Bahamians will not tolerate discrimination between men and women, we need to put the word sex."
"Please don't let it be a distraction, please stay focused. If you believe in the Bahamas and that men and women are equal, continue to ask all the questions you may have and we will be more than happy to answer.
Mrs Maynard Gibson added: "But I ask you to go to the polls on November 6 and support the referendum for equality for men and women and to make a very clear declaration as to what kind of society that we live, where we want to unleash the full potential of our men and women."