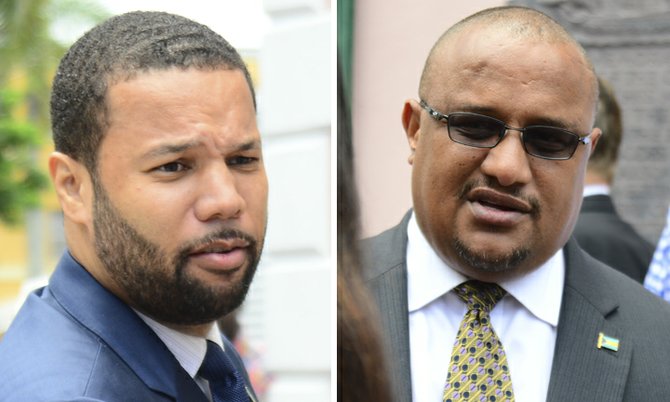 By KHRISNA VIRGIL
Tribune Staff Reporter
kvirgil@tribunemedia.net
PROGRESSIVE Liberal Party MPs Dr Andre Rollins and Greg Moss clashed with members of their own party as they expressed disagreement with the proposed constitutional amendment bills, with Dr Rollins saying he is prepared to step aside as government whip if the bills are not changed to accommodate his recommendations.
During an emotional and very frank contribution, Dr Rollins also suggested that senior members of the PLP try to politically annihilate those who are not publicly towing the party line. He suggested that the "new generation PLPs" may have been "tokens" to win the 2012 general election, but the party now wants them to conceal their true beliefs if they differ from PLP rhetoric.
"We should not expect just because we were elected to walk in lock step with the leadership of the party even if it (goes against) our personal views," Dr Rollins said.
"Mr Speaker, I believe, and I say this without fear of contradiction, that if you come into this place and you are told that you either think a certain way or you have no place in our organisation, you were merely a token," he added. "You were used to achieve a certain objective and when that objective is achieved, there is no longer any use for you."
Dr Rollins said some people have suggested he is "not a true PLP" because of his outspoken nature, but he stressed that a new generation PLPs "think differently" and have "strong views."
He added that he is prepared to take the "consequences" for his stance on the constitutional amendment bills.
"I fully expect that if this is taken to a vote as it is today, I can no longer and I am prepared to no longer serve as government whip. Because if the government expects that it has the unanimous support of this side, this side being the government's side, and I cannot accede to those wishes, I am prepared to step aside. That would be the right thing to do."
However, Dr Rollins was not the only one to have harsh words for his party.
During his contribution to the debate, Marco City MP Greg Moss said while he supported the first bill, it was unfortunate that it would not act retroactively.
It would enable a child born outside the Bahamas to a Bahamian woman to have automatic Bahamian citizenship at birth. Only those born in another country to a Bahamian father are able to take automatically Bahamian status, but not if the father is non-Bahamian and the mother is Bahamian.
Mr Moss said he would not support the second bill because he felt that no person who marries a Bahamian should get automatic Bahamian citizenship. However, this prompted Fox Hill MP Fred Mitchell to rise several times to explain that under Bahamian law, no foreign spouse gets automatic citizenship upon marriage and that the process is subject to approval.
"Everybody has to apply for citizenship of the Bahamas," Mr Mitchell said. "There are rules upon which someone is granted citizenship."
Golden Gates MP Shane Gibson also poked holes in Mr Moss' argument.
"For those people who think that once these amendments are agreed to, if it is agreed to, that these persons can immediately just walk (in) and get citizenship, they are absolutely wrong," Mr Gibson said.
However, Mr Moss stood firm on his point of opposition. He also said he would not support the fourth bill, which he feels could one day lead to legal gay marriage. However, he said, he completely supported the third Bill. It would give an unwed Bahamian father the same right to pass citizenship to his child that a Bahamian woman has always had under the Constitution in relation to a child born to her out of wedlock.
They were not the only PLP MPs to disagree with the bills, as Bamboo Town MP Renward Wells told members he could not support bill four, because of his fears it could lead to gay marriage.
The comments came in a heated House of Assembly debate on the issue of amending the constitution, where Speaker of the House Dr Kendal Major having to intervene several times to keep order in the Lower Chamber.
At one point, Dr Rollins shouted from his seat at Damian Gomez, Central and South Eleuthera MP, over bill four.
Mr Gomez noted that Uganda had outlawed homosexuality and faced heavy sanctions from the US and Europe. He suggested that opposing the inserting of the word "sex" into Article 26 could lead the Bahamas to experiencing similar penalties. The provision is entailed in the fourth bill.
However, Fort Charlotte MP Dr Andre Rollins stood on a point of order and accused Mr Gomez of using scare tactics to gain the support of Bahamians on the amendment.
This caused Dr Rollins to interject on a point of order: "The member for Central and South Eleuthera is misleading this house. He knows it and it is wrong. If he wishes he can elaborate on the matters with Uganda and their interests with outlawing homosexuality. We have done no such thing in the Commonwealth of the Bahamas. If you are intending to scare the Bahamian public, that is one thing. But at least be sincere in what you have to say because this should be a matter of educating the public on a matter of truth and not on the basis of scare tactics."
Mr Gomez denied that he was attempting to mislead the public as Mr Rollins had said. Dr Rollins was heard shouting his disapproval over Mr Gomez's comments.