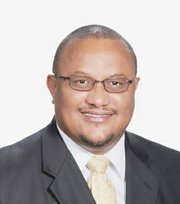 By RASHAD ROLLE
Tribune Staff Reporter
rrolle@tribunemedia.net
MARCO City MP Greg Moss told The Tribune yesterday that he will not support three of the four Constitution Amendment Bills currently being debated in the House of Assembly if they remain in their current form.
While other Progressive Liberal Party backbenchers, including Fort Charlotte MP Dr Andre Rollins and Tall Pines MP Leslie Miller have also expressed concerns about the bills, Mr Moss is the first to say outright that he would not vote "yes" to some of them, adding that he remains optimistic amendments will be made to the bills before a vote.
"In concept, we all agree it's necessary to amend the Constitution and remove discrimination and equalise relations between men and women," he said. "But what is a challenge is that the way in which these questions are now drafted raises concerns in some cases."
The third bill, which seeks to allow unwed Bahamian men to pass citizenship to their offspring if the child is born to a foreign woman is the only bill Mr Moss would support, he said.
As for the first bill, which would give children born outside the Bahamas to a Bahamian-born mother and non-Bahamian father the same automatic rights to citizenship that is currently given to children born outside the Bahamas to a Bahamian-born father and non-Bahamian mother, Mr Moss said he supports the principle, but believes the right should be given retroactively.
"I have no issues except it is not to be retroactive which means 41 years of children discriminated against to date will remain discriminated against while future children would be recognised," he said.
As for the second bill which would allow women equal opportunity as men to pass citizenship onto a foreign man she marries, Mr Moss said his approach to the issue of citizenship differs from the stance taken by the Constitutional Commission, adding that neither women nor men should have the automatic right to pass on citizenship to foreign spouses.
As for bill number four, which would make it unconstitutional for any law or person in public office to discriminate based on sex, Mr Moss said he is concerned the bill would open the door to same sex marriage.
"I heard that it would not lead to same sex marriages, but I respectfully disagree with that view," he said. "That's exactly one of the effects it would have based on my reading of the constitution therefore I wouldn't support it."
He added: "I'm hopeful that my comments would be made known and considered. I'm still optimistic that we will get to the position where we as a party can all support these bills but I do acknowledge that at the moment that does not exist."
However, last week Prime Minister Perry Christie remained adamant that the fourth constitutional bill would not legalise same sex marriages in the Bahamas. He said the government is not going to change the wording of the amendment that has sparked heated public debate.
According to media reports, Bamboo Town MP Renward Wells has also raised concerns about the bills.
In view of this, Free National Movement Chairman Darron Cash said yesterday that the FNM is troubled by the confusion "within the government and its back bench" on the issue. 
"This begs the question of just how much vetting was done at the cabinet level and within the PLP caucus," he said. "If the referendum initiative fails before it gets off the ground it will be because of the Prime Minister's failure to bring people together—starting first with those in his own party—and his unwillingness to make any necessary attitude adjustment to ensure success—again in his own party and in the country at large."
When asked to comment on the dissension within the PLP over issues related to the bills, PLP chairman Bradley Roberts said: "We do not live in a perfect world where everybody is in perfect agreement. I am keeping a watching and listening brief over what my colleagues are saying."
In particular, Mr Roberts said he doesn't believe the fourth bill which addresses discrimination based on sex could be worded clearer than it has been to clarify that it would not open the door to same sex marriage if passed.
Ultimately, he said: "Each person has to be able to respond for themselves. They are entitled to their point of view on that matter."
He added that he fully expects the bills to receive enough votes to be passed.
Debate on the bills is expected to resume on Wednesday.