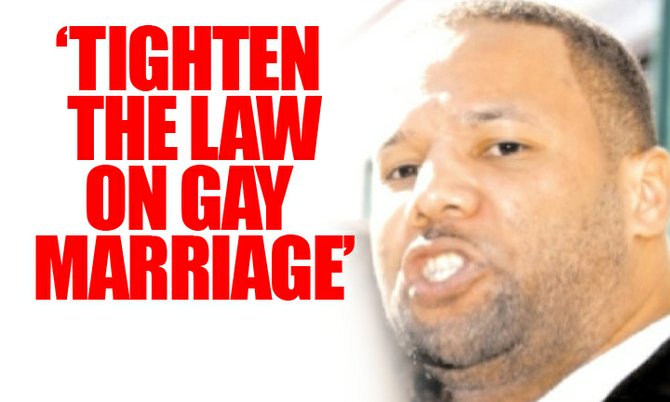 By TANEKA THOMPSON
Tribune News Editor
tmthompson@tribunemedia.net
FORT Charlotte MP Dr Andre Rollins has called on the Christie administration to reconsider its plans to give foreign spouses of Bahamian women constitutional rights to citizenship and to clear up "apprehension" that eliminating sex as a basis for discrimination in the Constitution could one day lead to same-sex marriage.
He urged the government to provide clarity on the issues and a more detailed education process than that which occurred before the failed gambling referendum, to ensure that the matter is not politicised and to restore voter confidence in the Christie administration.
Dr Rollins' concerns were outlined in a statement released on Saturday. When asked by The Tribune if this means he will not support the bills in Parliament if they remain unchanged, Dr Rollins said he awaits word from Prime Minister Perry Christie and Leader of Government Business Dr Bernard Nottage on whether they intend to consider his suggestions and make any amendments.
"I will be guided by their responses," Dr Rollins added.
Dr Rollins said concerns over bill four as it relates to same-sex marriage needs to be addressed, otherwise the proposal will be mired in "a torrent of speculation and opposition" that could derail the referendum.
The fourth bill seeks to end discrimination based on sex. This involves the insertion of the word "sex" in Article 26 of the Constitution to make it unconstitutional to discriminate based on whether someone is male or female.
Dr Rollins said: "The question that will be in the minds of many Bahamians who consider question four is are they being asked simply to protect against discrimination of women, as has been postulated by those framing the discussion, or is this question asking them to give future legislators and judges the latitude and discretion to redefine marriage?
"If so, how wedded will they be – future legislators and judges – to the belief that marriage is the union between one man and one woman and are Bahamians today prepared to leave that up to their interpretation and discretion?"
To counter apprehension about this, Dr Rollins suggested amending bill four to give voters the option of defining marriage in the Constitution "as being between one man and one woman".
The second constitutional amendment bill would allow a Bahamian woman who marries a foreign man to secure for him the same access to Bahamian citizenship that a Bahamian man has always enjoyed under the Constitution in relation to his foreign wife.
However, Dr Rollins said in light of the country's "inability" to control illegal immigration, this proposed change should be reconsidered to protect Bahamian citizenship from exploitation.
"If we, therefore, accept the premise that we have an illegal migration problem and that economic considerations are paramount in the minds of those seeking refuge here, we should not compound our immigration challenges via constitutional provisions that give an automatic entitlement to citizenship upon marriage. Obtaining citizenship should be earned via a gradual process, not an automatic entitlement. Legal statute that gives the right to permanent residency or the right to work, as is currently the law, is preferable."
He argued that instead of framing the proposed change as a matter of gender equality, the real question to be asked is whether any Bahamian, man or woman, should be able to give automatic entitlement to citizenship to a foreign spouse.
He added: "If children born in this country to foreign parents are constitutionally not entitled to citizenship, but entitled to the right to apply for citizenship, even after living in this country for 18 years, how can we justify giving any foreign spouse, male or female, an automatic entitlement to citizenship?"
Dr Rollins also stressed the importance of the government getting the bills, the referendum questions and the educational process right.
"To succeed in this exercise, there should be absolute clarity, so that there are no opportunities for it to become controversial or political and to restore some of the confidence that has been lost following the last referendum," he said. "The electorate deserves a more informed debate and educational process than occurred in the gaming referendum. Failure to respect the sensibilities of this more discerning and astute electorate will have ramifications which go far beyond matters of gender and citizenship."
PLP MPs Leslie Miller and Greg Moss have also noted their reservations about some of the bills.
Last week the Prime Minister told reporters he assumed his party had the requisite votes for the bills to pass through the House of Assembly. The government needs about 29 votes, or three quarters of the votes in Parliament to call for a referendum.
The first bill would enable a child born outside the Bahamas to a Bahamian woman to have automatic Bahamian citizenship at birth. The third bill seeks to remedy the one area of the Bahamas' Constitution that discriminates against men based on gender. The bill would give an unwed Bahamian father the same right to pass citizenship to his child that a Bahamian woman has always had under the Constitution in relation to a child born to her out of wedlock.
Debate on the bills is expected to resume on Wednesday.