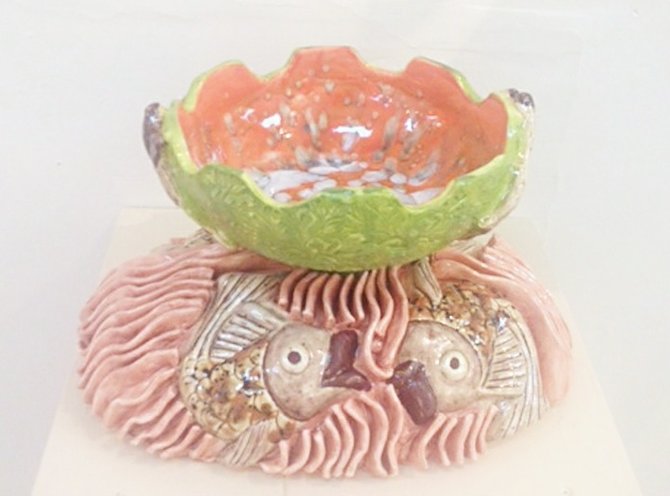 By ALESHA CADET
Tribune Features Reporter
acadet@tribunemedia.net
THE THIRD biennial All Ceramic Exhibition (ACE) gathered a full house at Doongalik Art Studios, last Thursday. Under the theme 'My Flamboyant Teacups and Bowls,' thirteen ceramic artists displayed their best works.
The diverse group included Anina Banks, Sue Bennett-Williams, Jessica Colebrooke, Lisa Cordella, Mary Deveaux, Gina Luree, Tina Maycock, Vincent McWeeny, Neko Meicholas, Jeffrey Meris, Quentin Minnis, Nadine Munroe and Imogene Walkine.
The exhibition was a thematic spin off from ACE 2011, which showed that utilitarian objects, such as teapots could become high art in the hands of the truly creative. The show was founded in 2009 by acclaimed Bahamian ceramicist Jessica Colebrooke who felt the craft was not getting the attention it deserved in the context of fine art.
In an interview with Tribune Entertainment, Jessica said she realised there are several artists in the country doing ceramics. She created the show to bring together these artists together to show their talent.
"This is also to honour Denis Knight who I consider to be the grand father of Bahamian ceramics. I usually do a call for works where I send it out through social media, the newspaper and word of mouth, and have people send their portfolios and so forth. It is not a show where you want to see kiddy art, this is a show where you want to see professional ceramics," said Jessica.
"I decided to have a show regardless of [whether artists held a degree in ceramics]. It doesn't take away from the purpose of the show, because the persons who are exhibiting, their work is of a professional quality. I am glad that people are out to see what we have put together. Obviously we have this crowd because people have come to support their people," said Jessica.
She said the exhibition was also held to force that kind of support from the public. Every year, Jessica said she finds there is an interest growing in ceramic art.
"I want people to see what we are doing as potters, ceramic artists, and that in itself is good for me because once people see what you are doing, the word goes out," she said.
Doris Johnson High School art teacher and ACE artist Mary Deveaux, took on the challenge of creating a mask for the show. The mouth area is shaped like a bowl, adding an illusion of functionality.
Ms Deveaux is a versatile artist who works with various media. She is the creator of "Jumbey Lou" craft. Her love and passion for ceramics was born in 1997 when she did several private sessions with her former student and colleague Jessica Colebroke.
"With ceramics you have to be able to manipulate and be prepared to be folded up and start all over again if you have to, because sometimes if you are not careful, you end up with a piece that you would not want to show. It takes time and your creative ideas get into play," said Ms Deveaux.
Another ACE participant, Imogene Walkine, said the purpose of her art is to pay homage to the beauty of the natural Bahamian environment and the vibrancy of the Bahamian people and culture. "Organic in feeling, most of my work is decorative, while some can be used as functional pieces, such as wall sconces," said Ms Walkine.
With a passion for the sea and marine themes, ACE artist Quentin Minnis, said he wants to do whatever he can to help encourage ceramics because it has possibilities you can't achieve with painting.
" You are working with three dimensions and with the ceramics, you can produce decoration and things that you can use in everyday life that can also be beautiful, so it spans the possibilities. We don't have that much of a history with ceramics in the Bahamas like we have with painting, so I would like to see it growing. It really seems to be blossoming now," said Mr Minnis.
The ACE Exhibition will continue until November 9.