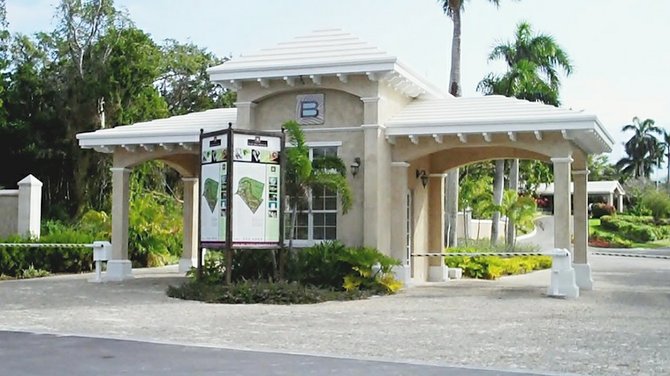 By NEIL HARTNELL
Tribune Business Editor
nhartnell@tribunemedia.net
The Balmoral's principal yesterday revealed he is "taking the plunge one more time" with an upscale $30 million condo project at Cable Beach, a development that is set to create around 150 construction jobs.
Jason Kinsale told Tribune Business he and his fellow investors were aiming to "ride the wave" created by Baha Mar's $2.6 billion investment via the 65-unit project, which will be located on prime Cable Beach beachfront land opposite Prime Minister Perry Christie's home.
Disclosing that he aimed to 'break ground' on his latest real estate venture by May/June 2014, Mr Kinsale said the development also aimed to exploit signs of world economic revival and changing tax laws in Europe.
He explained that impending changes in Switzerland, especially, were driving more Europeans to seek economic permanent residency in the Bahamas, and estimated that 70 per cent of his buyers would be foreigners.
With the Sanford Drive-based Balmoral just six months from completion, Mr Kinsale said he and his fellow investors were anxious to turn to a new project, and were willing to "take a bet" on their newly-acquired Cable Beach property.
"I thought I would take the plunge one more time," he told Tribune Business. "We've decided to capitalise on what we see with Baha Mar, and the great deal of demand we're seeing from foreign buyers."
Detailing the trends driving foreign purchasers to demand Bahamian real estate, Mr Kinsale said: "With the tax laws changing in Switzerland, we're seeing more people coming in.
"Instead of sitting in Switzerland with a bank deposit, they're actually opting to move here and become a permanent resident."
With price points at the as-yet unnamed $30 million project starting at $595,000, its units are above the $500,000 threshold at which economic permanent residency can be applied for, thus ensuring it is attractive to this market segment.
And, drawing on his experience with The Balmoral, Mr Kinsale said "one of the biggest issues" experienced with that property was "not having beach access" - at least in the eyes of potential foreign buyers.
Hence the decision to go with a beachfront location. "We've purchase a property 600 feet away from Baha Mar, right across from the Prime Minister's residence," Mr Kinsale told Tribune Business.
"It's a $30 million project. We feel confident in the fact Baha Mar is making a $2.6 billion investment. We're starting to see the marketplace abroad improve, and when you boil it down, there's a real lack of beachfront property available.
"Baha Mar is going to surprise a lot of us with how over the top it's going to be, so we're going to ride that wave as well and really take a bet on it," he added.
"It would be a real shame not to do anything, realising we could have done something, and kick yourself afterwards. We have to take certain risks to get the rewards.
"We put together a Bahamian investment group, and people willing to take a risk on the right project. Everything has to be perfect - an excellent location, right product. You can't miss any more, especially dealing with the banks; they're really tough. It's important to be firing on all cylinders."
Mr Kinsale added that the planned development would be a condominium complex, featuring 65 units in two buildings each seven storeys high.
He pledged that all units would have ocean views, and added: "We have units available for $595,000, which is unheard of at Cable Beach.
"We're getting ready to go. We have this boutique concept, something more modern. It's not what you usually see. It's time to change it up a bit."
Units will range in size from 1,200 square feet to a 2,800 square feet penthouse. While these sizes might seem small at first glance, Mr Kinsale said Europeans coming from London, New York or elsewhere were used to such and did not need massive properties.
This, he added, had been proven from buyer response to The Balmoral's 900 square foot Arista units. Canadians, as well as Europeans, were being attracted to the Bahamas.
As to the buyer make-up at his latest investment, Mr Kinsale told Tribune Business: "I would love it to be 100 per cent Bahamian, but reality is probably that we will see 70 per cent foreigners, 30 per cent Bahamians. That would be my guess."
He added that he expected to receive all the necessary government approvals for the property's redevelopment "this week", with construction likely to last 20-24 months.
Given a mid-2014 start, Mr Kinsale's latest project, following behind Hampton Ridge and The Balmoral, is likely to complete by mid-2016. He estimated that 150 construction workers were likely to be employed.
And Mr Kinsale told Tribune Business that he and his fellow investors had received a further confidence boost from initial buyer reaction to the project, over 80 per cent of those who have visited the site putting down deposits.
"I'm sure there's lots of plans on the drawing board, but it's a matter of executing and taking the leap," he added.
"We feel good about it, and have had a very strong response from the market so far. We've taken six people out there, and five of those have reserved. This tells me this is the right location, the right beach and the right price.
"It's only 600 feet from the Sheraton, its incredibly close, has beachfront, and is not in the middle of [Baha Mar].
"We feel good about it, and the people we've taken up there feel good enough to give us their money, so we're going to go for it."